Students Teaching Students: Cardinals Visit Elementary School in Mexico
March 25, 2022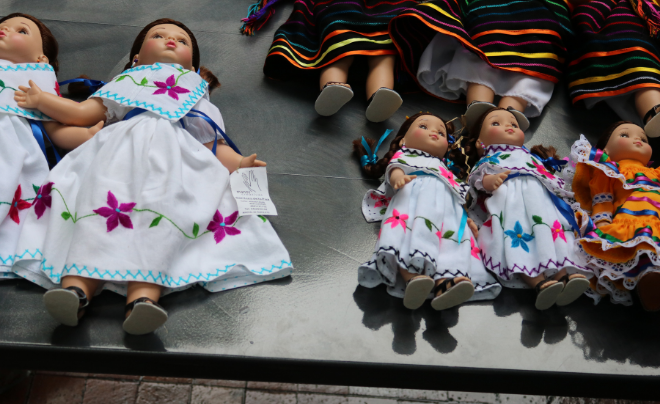 Twenty University of the Incarnate Word students traveled to Tierra Blanca, Mexico, for a unique learning experience. There, they were able to see the traditional ceremonies of the Otomí people - an Indigenous people of Mexico - including the meeting and delivery of Cuelga. Cuelga are items created by the artisans of the Indigenous community. The trip aided the students in their academic research project on the Chichimeca and Otomí cultures, which aims to generate actions that favor the community.
"We have a project called Educational Missions, where we link learning activities in the field," noted Mara Guadalupe Alba Aguilar, director of the Business School at the University of the Incarnate Word Bajío Campus and visit coordinator. "Later, we developed a project for micro-enterprises called 'undertaking beyond the border,' in which we involve Indigenous women, with the creation of business plans and marketing of handicrafts."
International business, pharmaceutical, optometry and mechatronics students from France, Poland, the United States, Mexico, Germany and the Congo experienced first-hand the culture and traditions of Indigenous communities. The group learned from young students in the Chupitantegua Indigenous primary school in San Luis de la Paz. As visitors they saw the school facilities, enjoyed songs in the Indigenous language, and saw traditional dances, among other activities, with students from the school community.
The visit coincided with the educational center's cultural week celebration, according to Ignacio Briones Rojas, director of the Chupitantegua elementary school. His students prepared a cultural and recreational program from a sociolinguistic approach, and the presentation of the Úza language program. The students visited the Arroyo Seco archaeological site, southeast of the municipality of Victoria.
"I like the fact of knowing more about my culture to better identify myself as a Mexican and share the stories with more people," said Luis Aarón Jiménez Guillén, a Mechatronics Engineering student at UIW.
After learning about the cultural context of the Indigenous communities, the students expressed their joy and admiration for the Indigenous cultures of the Northeast and are excited to continue the partnership.