Student-Athletes and UIW Community Step Up to Support Ukrainian Students
March 4, 2022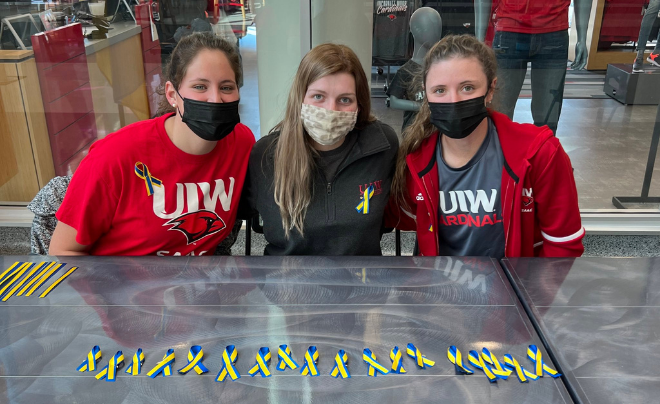 In a show of solidarity with Ukrainian classmates, University of the Incarnate Word student-athletes, alongside International Student and Scholar Services (ISSS), spent the day Wednesday, March 10, working to spread the word about what the community can do for them during this time of need. The event aimed to raise awareness not just about the conflict, but how to best stay informed and support the people of Ukraine.
To host the event, ISSS partnered with the Student-Athlete Advisory Committee (SAAC) to hold an information booth in the Student Engagement Center. Volunteers made and handed out blue and yellow ribbons to wear in solidarity. Volunteers at the booth also shared information about credible media to follow on events in Ukraine, how to aid in humanitarian efforts, and how to help Ukrainian UIW students.
"International Affairs and our Ukrainian students are so thankful for SAAC, Life Skills, Behavioral Health, the Ettling Center and Dr. Randall Griffiths for their help with the booth," said Sheena Connell, assistant director of ISSS. "This is an incredibly scary time for our UIW Ukrainian community members who are facing overwhelming fear for their families and feeling helplessness being so far away from them. This booth was a way to take action, raise awareness and show what compassion the UIW community is capable of."
UIW's ISSS has also created an international student emergency fund that can be used any time an international student is in crisis. Currently, donations will be prioritized for UIW students from Ukraine.
"We really appreciate the support," added Shvets. "We can feel it. Since UIW is a Catholic school, we know there are prayers all over the place. Some people back home say they can feel that the whole world is supporting us. We really appreciate it."