Religious Studies Holds 20th Annual Pierre Lecture
March 18, 2022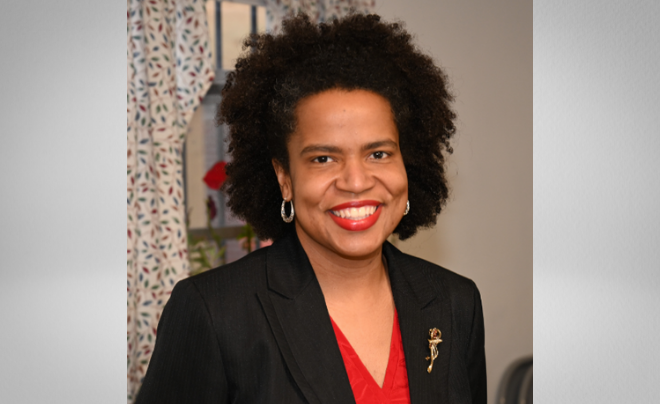 The University of the Incarnate Word Religious Studies Department held its 20th annual Pierre Lecture on March 16, via Zoom. This year's presentation, titled "Do THE WORK: Antiracism and the U.S. Catholic Church," was presented by Tia Noelle Pratt, PhD, director of Mission Engagement and Strategic Initiatives, Courtesy Assistant Professor of Sociology, and editor-elect of the Journal of Catholic Social Thought at Villanova University.
"Anti-racism work is essential because racism continues to plague society and the Catholic Church," said Pratt before the event. "I plan to discuss my multi-faceted anti-racism work as a sociologist and scholar/practitioner. I will also talk about the ways I have engaged this work, future plans, and ways we are all called to the work of anti-racism."
"I think discussions on anti-racism will be necessary for a long, long time," added UIW Department of Cultural Studies Chair Julie B. Miller, MTS, ThD, who organized the Pierre Lecture. "We have really only begun to have these conversations in the last several years since the murder of George Floyd, and much more work needs to be done."
Pratt's research focuses on systemic racism in the Catholic Church and how it impacts African-American Catholic identity. Her work has been featured in the Interdisciplinary Journal of Research on Religion, multiple edited volumes, as well as Faithfully, Commonweal, The Revealer, National Catholic Reporter, and America: The Jesuit Review. Pratt is currently at work on her first book.
The Religious Studies Department established the Pierre Lecture series in 2003 to focus on the contributions of women scholars who are addressing current issues in the fields of theology and religious studies, particularly those scholars who are grappling with the complex issues of social justice, ecology and globalization. The department focuses on scholars who are doing critical work in areas consistent with the mission of the Sisters of Charity of the Incarnate Word such as human rights, respect for human dignity, systemic change, globalization, multiculturalism, the environment and other pertinent topics. 
The goal of the series is twofold. First, that the audience will benefit from seeing women as academic role models contributing to the advancement of scholarship and its application. Second, the department wants to expose the audience to the works of current scholars who are leaders in their area. With a long history of educating women and men to be "enlightened citizens" and leaders, both in the local community and across the globe, the department believes that this series offers attendees an opportunity to learn from the insights of leading women scholars and practitioners in the field.
For the first decade, the lecture was supported by the Pierre Fund Committee of the Sisters of Charity of the Incarnate Word, who agreed with this vision and generously funded the lecture series. Since then, the College of Humanities, Arts and Social Sciences has supported the annual Pierre Lecture.