Growth, Inspiration and a Family Atmosphere
March 23, 2022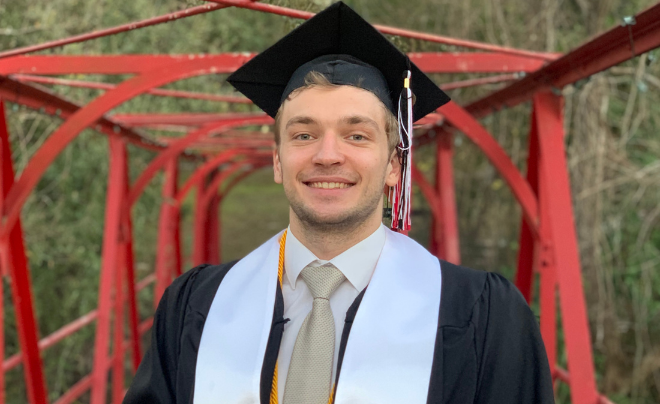 "UIW has a great supportive environment that made me grow a lot as a person."
Like many of the University of the Incarnate Word's international students, Oleksandr Karpenko is far from his home country of Ukraine and a bit out of his comfort zone. He transferred to UIW in 2018 for a chance to compete on a Division I swim team in the United States, but he found much more than a way to compete in the pool.
"Being in a new cultural environment, not only I was able to widen my horizons, increase cultural awareness after meeting new people, and improve my English language skills, I was also able to obtain deep academic competence in my major field of study, that also gave me both theoretical and practical understanding of how I can use the acquired knowledge and skills for my benefit after graduating from the University," said Karpenko.
Living far away from home is particularly challenging for Karpenko with the current war being waged in his home country, but UIW, he says, has been very helpful and understanding. The International Student and Scholar Services office has provided resources, and his teachers and supervisor have been flexible with hours and deadlines while he continues to process the events as he is away from his loved ones.
"What's happening right now is a truly traumatizing and unprecedented experience, and I can say that UIW is going beyond expectations in the effort of making things easier for me," said Karpenko. "I'm really grateful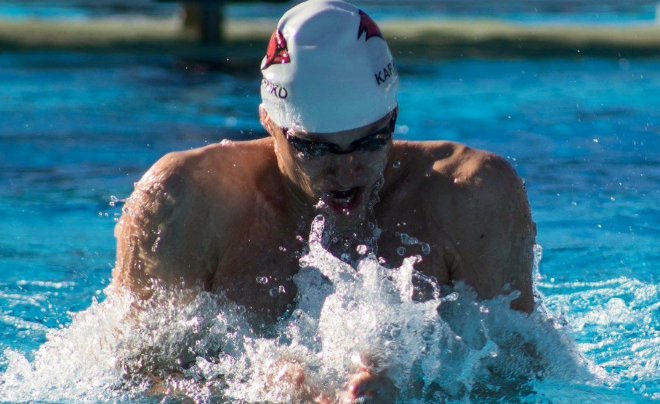 for the support I'm receiving from UIW, and I feel like no matter who will be in my place, our school will treat them with the same level of selflessness and compassion."
Karpenko is working towards his Master of Business Administration in Finance and is enjoying analyzing financial markets. Through his studies, he has learned how to invest real money, but his love of numbers came well before he arrived at UIW. He hopes to one day combine his love of finances and swimming into a profitable business.
"I chose my current major as I was always passionate about numbers and finances," noted Karpenko. "Furthermore, I always loved to analyze any kinds of data especially in swimming, and thanks to UIW I was able to come up with a business idea that could potentially shape up the entire swimming world in future. I feel like my major fully aligns with my passions and goals."
Karpenko already holds one degree from UIW, having graduated in December 2020 with a Bachelor of Arts in Business Administration with a concentration in Management Information Systems (MIS). He took a year off to work, but returned to work on his master's degree because he loves and trusts the education he received at UIW.
In particular, he has two professors - Earl Harmsen, professor in the Management Department, and Ron Washington, PhD, coordinator of MIS - who have motivated him. Harmsen, Karpenko explained, inspired him to develop his own business idea, while Washington gave priceless advice on the work/life mindset and mentality in the United States.
Karpenko's goal is to fully use the resources UIW provides, such as its wonderful teachers and education to put him in the best possible position to achieve his lofty goals after graduation.
"I feel like it's relatively easy to be a successful student at UIW, one just has to be patient, disciplined, pay attention to what professors are saying, as they're sharing priceless experience and knowledge, and do not hesitate to ask for help if needed, as UIW provides all kinds of resources for a student to make learning process easier," commented Karpenko.
But the top-notch education is not the only reason Karpenko loves UIW. He loves the family atmosphere and how UIW truly feels like the "Cardinal Nest." He loves that UIW's Mission welcomes a diverse group of students and teachers. And he is forever grateful to the school for opening doors for him.
"I'm not the first and not the last international student here, but I hope many more people from around the world will have the opportunities I was able to have, and that they will be able to personally grow the way I was able to," said Karpenko.