Go Green! UIW Prepares to Celebrate Earth Month
March 25, 2022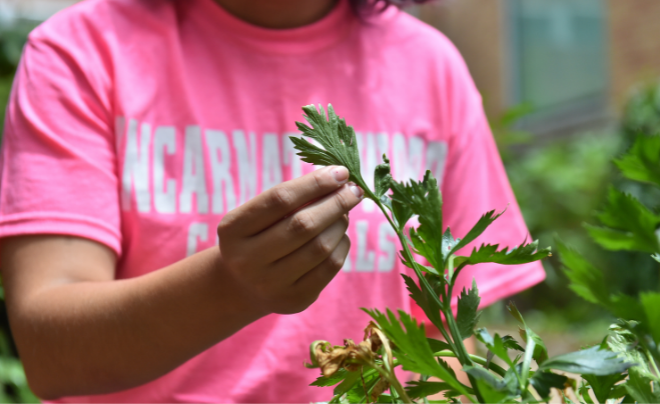 "Composting is fun! Everyone should try it sometime."
So says Benjamin C. Miele, PhD, coordinator of UIW's new interdisciplinary concentration in Sustainability Studies and chair of the Sustainability Advisory Board. Miele invites members of the University community and the San Antonio area to join him in preparing for Earth Month.
At UIW, Earth Month is designed to build up to Earth Day, April 22, raising awareness among students and faculty and encouraging them to take action on that day and moving forward. Earth Day began in 1970, with nearly 10 percent of the American Population taking part in the inaugural celebration. The day is now recognized on a global scale.
"Since [the first one], this annual day of action dedicated to environmental justice, social justice and racial justice has become a global phenomenon that annually inspires millions of people around the globe to make the world a more just, verdant and equitable place," stated Miele. "The Sustainability Advisory Board wants Earth Month to educate students and motivate them to take this message of living more sustainable lifestyles into the broader San Antonio community."
UIW has numerous events scheduled for the month of April, including the National Wildlife Federation's EcoLeaders National Conference. Slated for April 6-7, this UIW-sponsored virtual conference connects students to experts in the field of sustainability, helping them explore careers dedicated to the field. UIW students receive free access to all conference sessions and workshops, including the virtual exhibition where they can meet with recruiters and experts in sustainable development.
As the coordinator of Sustainability Studies and chair of the Sustainability Advisory Board, Miele noted that the UIW community can become more involved during Earth Month and beyond.
"On an individual level, members of the UIW community can become more involved in lifestyle changes that require only a small commitment of time but have a large impact on the world they live in," said Miele. "These include composting, eating a plant-based diet and electrifying their appliances and vehicles. Larger commitments include joining student groups, joining environmental justice organizations and writing letters to members of Congress.
"At the institutional level, UIW has committed to the Laudato Si Action Platform, and it can maintain this commitment through development of a climate action and adaptation roadmap, a pledge to attain net-zero emissions and a commitment to ethical investment practices."
According to Miele, it is important to spend time learning about ways to take care of the earth, and he invites people to join in that process over the next month leading up to Earth Day.
"In an ideal world, we would dedicate every day to learning more about sustainability and the importance of the natural world to human flourishing," he added. "With each Earth Day we hope to diminish both the degradation of our environment and the unequal burdens borne by our fellow humans."