From the Field to the Classroom: How Cam Preston Plans to Make a Difference
March 30, 2022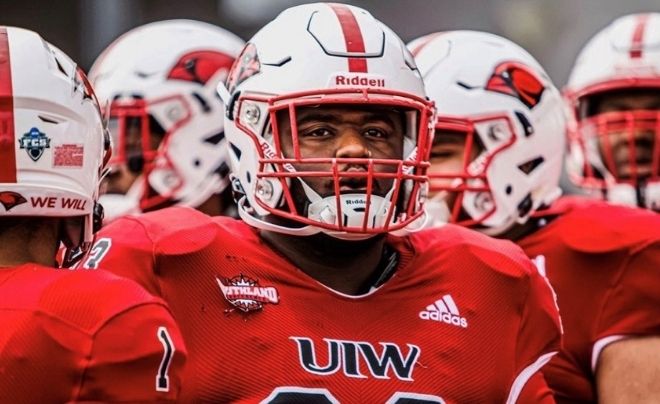 When Cameron Preston, a Kinesiology and Education major preparing to graduate next spring, decided to attend UIW, it was to play football. He did not know much about the University, but after visiting campus, he knew this is where he wanted to be.
Preston has enjoyed much success on the football field since becoming a Cardinal. He was part of both the 2018 and 2021 Southland Conference championship teams, and played in the FCS Playoffs in those years as well. But throughout his time at UIW, he has learned much more than just the skills he uses on the football field.
"Being at UIW has taught me accountability and time management. [I've learned] how to build new relationships with people different from myself, and it's helped form my character," said Preston.
Preston noted that a unique factor of UIW's student body is the diversity, and he has worked hard to get to know people from different backgrounds. This, he says, has been a key part of his success at UIW.
"Get involved and network with other people," Preston advised his fellow students. "You'll meet people in different disciplines, and you can learn from each other and assist one another. I've met people from all over the world. We come together and share the UIW experience."
But Preston did not learn all of this on his own. He says the renowned faculty in the Dreeben School of Education, like UIW Director of Teacher Education Dr. Elda Martinez, have been instrumental in helping him grow, both personally and professionally.
"Surround yourself with good people, people with common goals, and build relationships with your professors," added Preston. "The way Dr. Martinez carries herself professionally, and teaches us how to be teachers, gives us a good example of what we should be."
Preston hopes to play professional football after graduation, but ultimately, he wants to coach, teach, and positively impact students of his own. Like his instructors at UIW, he wants to give back and support the next generation.
Through it all, Preston is grateful for the support and encouragement he has received from his mentors at UIW, because it allowed him to grow in ways he did not know were possible.
"In high school, I got the work done, but didn't push myself to my full potential," explained Preston. "In college, I have exceeded my own academic expectations. I have put in real work and realized that when I put my mind to something, I can get it done."