Author of Sing with Me: The Story of Selena Quintanilla Speaks at UIW
March 18, 2022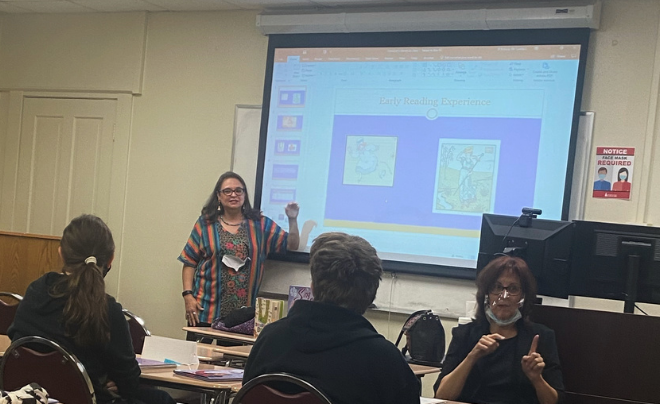 The University of the Incarnate Word English Department, Women's and Gender Studies and the College of Humanities, Arts and Social Sciences hosted An Evening with Diana López: Children's Author of Sing with Me: The Story of Selena Quintanilla on March 17.
"Throughout the day, Ms. Lopez spoke twice," said LuElla D'Amico, PhD, coordinator of the Women's and Gender Studies program and associate professor of English at UIW. "She came to my Children's and Young Adult Literature course, where she spoke about the past, present and future of Latinx literature and where her work stands in relation to that. The night event was focused on Women's History. She began by invoking some famous women who have made history. Her theme was that to be an ideal leader, you need first to be a good follower. You need to listen to your community, your conscience and your heart."
López is a children's author who went to St. Mary's University and was a high school teacher in San Antonio for years. During the event, she gave multiple examples of local and national stories to make her case about listening to one's community, conscience and heart.
"She was a phenomenal speaker – someone who is nationally known – but could speak directly to our local community. I could not imagine a better fit for this year's Women's History Month featured lecture," added D'Amico.
Throughout the day, Lopez also spent time signing books, giving advice about how to break into the field of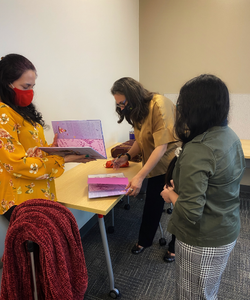 being a writer, and getting to know students one-on-one. At the end of her talk, she shared a picture of her with a group of children at an elementary school in Corpus Christi, where she lives. Each student was wearing a Selena shirt.
"Ms. López is a dynamic speaker, and she is engaging," said D'Amico. "I felt honored to get to know her and to hear how she developed this picture book about a biopic on Selena. Seeing her impact on her local community was touching, but in a short time, she also made that type of impact on our community because of all the different ways she interacted with students and faculty. She was generous, knowledgeable, and it was a joy to have her on campus and learn about her work."
D'Amico looks forward to this event each year, as it provides a platform for a powerful woman speaker to give a lecture to UIW students about issues that matter in their lives. She always has good memories of this event, she says, and this year was no different.
"This event is dear to my heart because it makes us pause each year during this month and consider a new framework," noted D'Amico. "Diana López is an author whom I'd been following for a while after her book Confetti Girl, and when I saw her new picture book on Selena – who is so beloved in this area – I couldn't wait to have her on campus. I teach and am a scholar of children's and young adult literature. It's my passion to bring authors to campus whom I think our students will connect with, and Ms. López's visit did not disappoint."