UIWtv Earns Television National Signature Station Award
February 11, 2022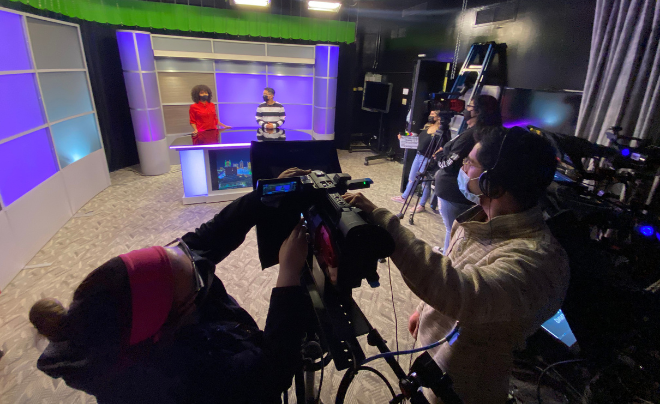 The University of the Incarnate Word's student-run television station, UIWtv, has been awarded first place in the 2022 Television National Signature Station from the Broadcast Education Association (BEA). This is the first such honor for UIWtv.
"It is incredible for UIWtv to be recognized at a national level for all the hard work and determination our whole team has produced these past two years," said UIWtv Operations Director Antonio Bocanegra II. "Being a small college TV station from San Antonio that wins a national award like this is something to be proud of. In addition, it showcases that UIWtv is now a new example for student-run TV stations across the nation to observe. This win is going to put UIWtv on the map."
Bocanegra II led the efforts in submitting the station's protocols and practices for consideration. The UIWtv crew submitted an immersive portfolio showcasing the daily operations of the station. It included the station's mission statement, its community outreach efforts and samples of social media, programming and branding/logos, as well as additional pieces.
In addition to Bocanegra II, officers Zoe Del Rosario (program director), Alyssa Muñoz (news director) and Joy Burgin (multimedia journalist) maintain the daily operations of UIWtv. Theresa Coronado, instructor/advisor in Communication Arts, serves as the faculty advisor.
"I am proud and appreciative of all my peers who help support and aid the station's daily operations," added Bocanegra II. "They strive relentlessly, giving all their time and energy to produce content for our Cardinal community while making memories that will last a lifetime. We wouldn't be 'The Word On Campus' without them."
The Dr. Marjorie Yambor Signature Station Competition is a sponsor for BEA's Student Media Advisors interest division. The competition invites submissions of superior protocol and practices at student-run, faculty-advised college radio and television stations with a mission of identifying and recognizing excellence in programming, branding and student management.
The Signature Station Competition judges are media educators and industry professionals who evaluate criteria such as the station's mission, leadership, professional development, content, social media and community service.