UIWRSO Faculty Members to be Recognized by Texas Optometric Association
February 18, 2022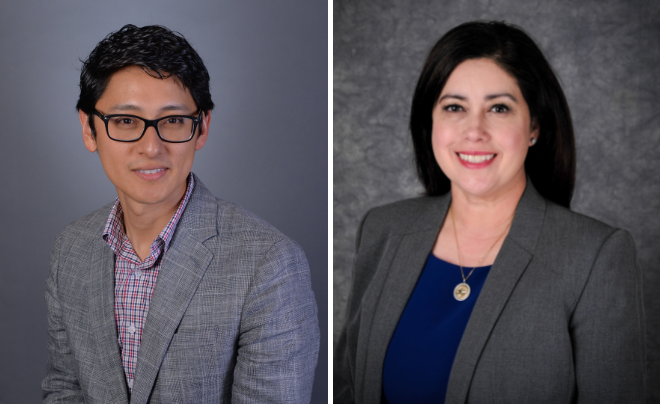 Two faculty members from the University of the Incarnate Word Rosenberg School of Optometry - associate professor Dr. Matt Valdes and acting dean and associate professor Dr. Sandra Juarez Fortenberry - will be recognized at the Texas Optometric Association (TOA) conference on Feb. 19.
Valdes will be inducted as the 82nd president of the TOA after serving on its Board of Trustees since 2014. He is also the clinical preceptor for third- and fourth-year interns.
"I am looking forward to this unique opportunity and privilege to serve alongside so many dedicated individuals in addressing the challenges facing eyecare today," said Valdes. "My hope is to build off our recent legislative gains, advocating for all Texans to have access to quality eye care and providing our members with the tools to be successful."
Valdes joined UIWRSO in 2012 and has been involved in the development of various didactic courses, such as geometric optics, ophthalmic optics, low vision rehabilitation and interprofessional education and collaborative practice (IPECP).
Fortenberry will be presented with the Mollie Armstrong Leadership Award, named after the first female president of the TOA. This award honors an optometrist who has been in practice for at least 10 years and has performed significant public service for the visual welfare of others, providing service to educational institutions, organizations, research programs and civic community groups.
After serving on the TOA Board of Trustees from 2012-2021, and on the Executive Committee as President in 2019-2020, Fortenberry continued to serve on the Association Support and Meetings Committees. She coordinated quality CE courses for TOA events. She was recently announced as the next dean of UIWRSO, a position she will assume in June 2022. Fortenberry will become the first female dean of an optometry school in Texas, and one of only a handful of women to hold such a position around the country.