UIWPD Joins SAPD, Other Agencies to Swear in 10-year-old Officer
February 11, 2022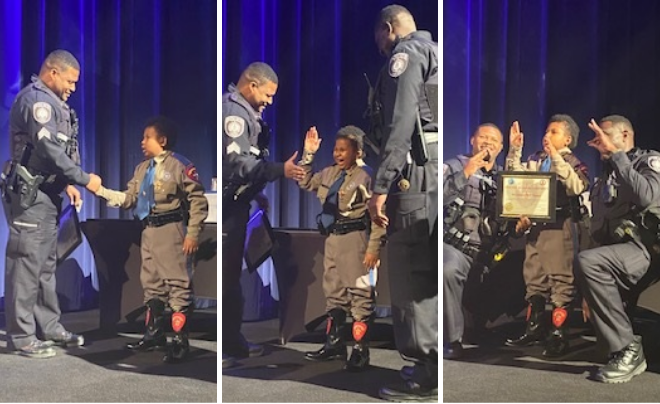 The University of the Incarnate Word Police Department's Sgt. Ryan Ladson and Officer Lenard Thomas joined the San Antonio Police Department and approximately 40 other agencies for a swearing in ceremony at Community Bible Church on Monday. At the ceremony, 10-year-old Devarjaye "DJ" Daniel became an honorary UIWPD officer. Daniel becomes UIWPD's first honorary police officer in the department's history.
"It is a privilege to have DJ as an honorary member of the UIW Police Department," said Chief Jessica Serbantes. "His strength and courage are amazing. The UIWPD is proud and, more importantly, honored to have helped make his wish come true."
Daniel is a fourth grader from Freeport, Texas, who is battling terminal brain and spine cancer. He was born in San Antonio, but moved to Houston in 2017, where he was diagnosed six months later. Since then, DJ has had 11 brain surgeries, but he continues to be a light for others with his positivity.
"The cancer ride has been something I can't explain," said Theodis Daniel, DJ's father, to KSAT News. "He just gets up in the morning and gets it done. He doesn't complain, he doesn't want to put that energy on anyone else. He just wants to hear that positivity."
The younger Daniel has dreamed of becoming a police officer and set a goal of joining 100 agencies. He has far exceeded that number, becoming an honorary officer, deputy and trooper for more than 180 enforcement agencies in Texas.
"It was an honor to be part of the ceremony," said Thomas. "It was just heartfelt. He has inspired me to never complain. When his dad got up and gave his speech, he said that DJ gets up every day and doesn't complain. Whether he is feeling good, whether he is feeling bad, he gets up and he puts on that [police] uniform ... We have a tendency to complain about everything and this guy doesn't complain. He gets up, puts on the uniform, and goes about his day."
For the most recent ceremony, agencies from as far as El Paso and Dallas traveled to San Antonio to swear Daniel in. Departments from other states have also reached out, asking to swear Daniel in as an honorary member.
"It was a great privilege to be part of the ceremony, honoring DJ as a lifetime UIW Police Officer," added Ladson. "He is a bright soul and conveys a heart of gold. DJ possesses all attributes of a police officer. He is brave, courageous, and pushes through tough times, no matter what life throws at him. All with a smile on his face. DJ is a true hero, and it was a great honor to have met him."