Local Educators Discuss the Role of 'Race in Education' at UIW Black History Month Event
February 25, 2022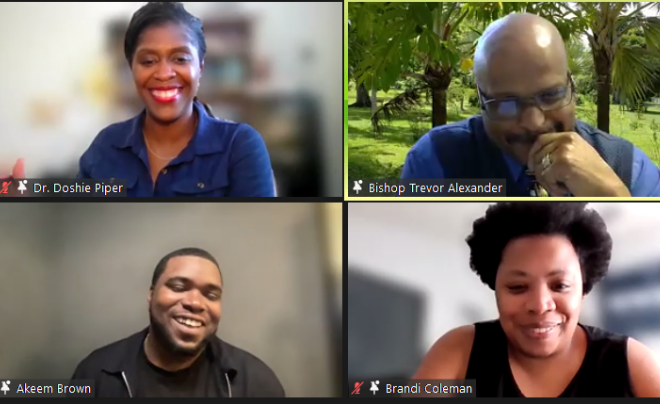 Dr. Doshie Piper, associate professor of Criminal Justice at the University of the Incarnate Word and co-chair of the UIW Black History Month committee, hosted an event titled "Race in Education" on Monday, Feb. 21. The Zoom discussion featured a panel of three local educators: Bishop Trevor Alexander, UIW instructor/Protestant Chaplain, Dr. Brandi Coleman, induction coordinator in the Dreeben School of Education, and Akeem Brown, founder, CEO and president of Essence Prep SA.
Piper, a proponent of thoughtfully introducing conversations about race in educational settings, believes doing so will better prepare students entering higher education. She shared that today, many university students begin their collegiate journeys unequipped to engage in discussions about race.
"I think part of this ambivalence is due in part to racialized conversations not being part of regular conversations," she suggested.
In a first step towards breaking barriers to effective conversations about race in education, the panelists began the session by introducing themselves and explaining their educational backgrounds. They then shared their own racialized experiences and discussed when race became relevant to them in education.
Brown talked about his childhood in Brooklyn, New York, with a mother who served as a police officer and encouraged his academic and personal growth. Prior to his freshman year of high school, his family moved to Orangeburg, South Carolina. Home to two Historical Black Colleges and Universities – Claflin State and South Carolina State University – Orangeburg proved a placed that nurtured Brown's love of education. He had predominantly Black teachers throughout high school, providing him with support that, he says, not every child has.
"I saw the drastic difference," stated Brown. "The difference in what I believed that so many of my counterparts did not have access to. Supportive and dedicated adults who looked like them, who were willing to push them, held high expectations, knew your mama and didn't have a problem calling them. But they partnered with parents in the pursuit of their child's education. I describe my student experience as a fortunate one as a Black boy growing up in America, because I had those supportive adults who were in my space."
Following introductions, the panelists answered a series of questions surrounding race in education, including about their own experiences and how they influenced them as educators. The group also considered how race is portrayed in educational settings today, and what roadblocks exist in having these important conversations.
The trio ended the main portion of the event by celebrating the most inspirational educational figures to them, and how those individuals influenced and contributed to their professional and personal lives. The event's nearly 60 attendees then had an opportunity for a Q&A session.
"I was very pleased with the turnout," said Piper. "We were expecting 30 to 40 people, but far exceeded that expectation … attendees asked questions that ranged from censorship to student-centered discussions around critical race, and the panelists did an amazing job."