Keller Receives 20 Year Service Award from Texas TRiO Association
February 22, 2022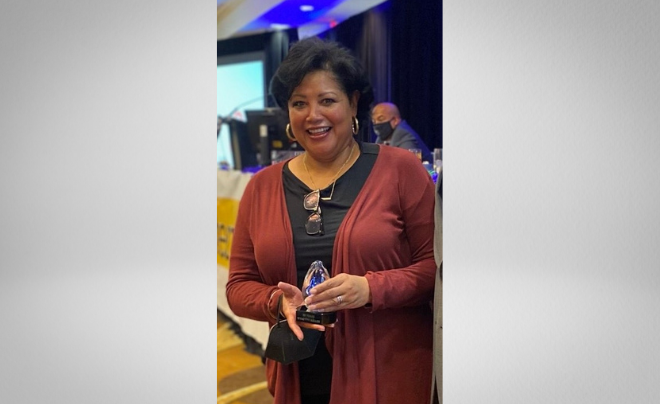 Wynette Keller, director of TRiO Student Support Services at the University of the Incarnate Word, was recognized by the Texas TRiO Association with a 20 Year Service Award at the organization's conference.
TRiO Student Support Services is a graduation, retention and persistence program designed to help participants meet their academic goals and graduate. This federally funded program is of no cost to students. TRiO is funded to provide 200 students with additional support while at UIW. Participants in the program receive assistance through academic workshops, peer mentoring, financial literacy education and more.
We caught up with Keller to discuss how rewarding her work as the UIW TRiO program director is, and how it aligns with the Mission of UIW.
Q: You have been with the Texas TRiO Association for 20 years. Can you share one of the moments that you are most proud of throughout your time working with the program?
A: It's really hard to believe that it has been 20 years! There have been many proud moments, but I have to say that watching students accomplish things that they did not think were possible has got to be the best. Whether it is getting an A in a course that they struggled with, or flying for the first time to see the White House, seeing students overcome obstacles keeps me going. I am probably most proud of the resilience of our TRiO students.
Q: What has been the most rewarding part of your work with TRiO?
A: It is always rewarding to meet and exceed the goals for retention, persistence and graduation rates that we set for the TRiO program. It is definitely the individual student achievement, sometimes large, sometimes small and personal, that encourages me to continue my creative work with program participants. It is an incredible reward to see my students overcoming hurdles that seemed impossible. Watching them build their confidence is the very best. I am in the rare position of seeing dreams come true and I do not take that for granted.
Q: You work closely with students who haven't had the advantages that others may have had. How does it feel during graduation each year when you see TRiO students walk across the stage?
A: Of course, it feels amazing to see our TRiO students walking the stage! I get the great gift of seeing them before they begin their first semester and get to follow them all the way to graduation. I share in their joys, sad times, and have seen them go from wide-eyed freshmen to sage seniors. I love to remind them about their first day in the TRiO program, when I told them how quickly the time would go by. I get to speak to parents when they drop their kids off for the first time in college and then get to see them at graduation. It is an awesome feeling to see those goals being realized.
Q: You have spent your career as an advocate for first generation and low-income students, as well as students with disabilities. How does that work align with the Mission of UIW?
A: I am so grateful to work for an institution that advocates for developing the whole person. The University Mission recognizes the importance of diversity and working towards the common good. TRiO Student Support Services advocates for a diverse group of students who are determined to make a difference for themselves and their families. Advocacy is something that I learned from my parents. They believed that education was an important and necessary equalizer in our society, regardless of where you come from. When I see TRiO students working towards their goals and learning about themselves in the process, I know I am in the right place. TRiO works!