HEBSBA Professor Honored with E-Tourism Global Novel Award
February 4, 2022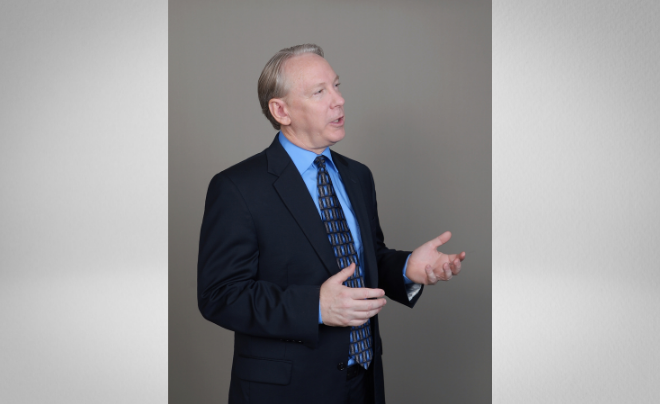 Dr. David Vequist, professor of Management in the University of the Incarnate Word's H-E-B School of Business and Administration (HEBSBA) and the founder/director of the University's Center for Medical Tourism Research (CMTR), was honored with the E-Tourism Global Novel Award by the Mall of Fame Nigeria. He was presented the award during the E-Tourism Business Awards and Conference on Feb. 1-2.
"I am particularly honored to be recognized for my academic research in a location halfway across the world," said Vequist. "This shows the impact that UIW, the Lewis Center of the Americas, and the Center for Medical Tourism Research are having in places that we might not expect."
UIW's CMTR was the first premier academic research center focused on the movement of people across borders for healthcare, and remains a leader in the industry. Vequist and his team have conducted multiple studies on these trends, data from which were ultimately noticed by the Mall of Fame Nigeria.
"The diaspora of Nigerians and other Africans out of their country to other nations for healthcare is considered a major crisis in the country and is estimated that $1 billion USD in healthcare spending leaves the country annually," explained Vequist. "[This is] not well known, but some African countries have banned their presidents from traveling for healthcare in other countries. In addition, one of my recent presentations at Abu Dhabi, UAE touched on how many Africans had to travel either within their home country or sometimes outside a national border in order to get access to medicine or treatments for the HIV/AIDs epidemic that ravaged the continent."
According to Vequist, the pandemic has made it clear that medical tourists will continue visiting neighboring countries unless borders are closed. With the continued increase of people traveling for healthcare, the CMTR remains an important contributor to the field of medical tourism.
"We are currently developing educational materials for health cluster development based on work by Dr. Michael Poter from Harvard's School of Business, accumulating research on how countries like Mexico have benefited from Americans traveling south of the border for healthcare, exploring the role of domestic medical tourism and self-insured company bundled contracts with 'Centers of Excellence' in America, and some recent analysis of how many international patients have been health tourists in the U.S.," added Vequist.