Dr. Ann D. David Receives 2022 University Teacher of the Year Award at TCTELA
February 10, 2022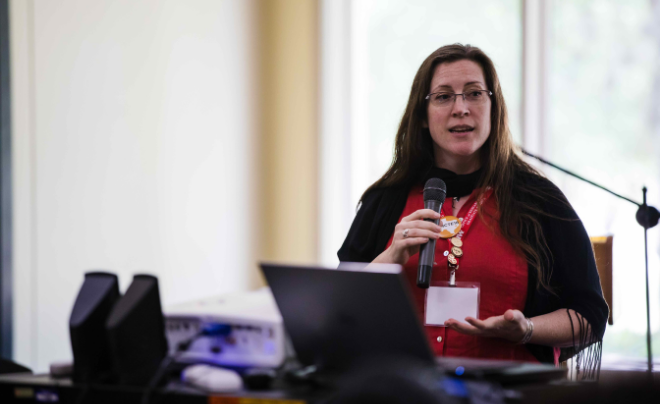 Dr. Ann D. David, associate professor of Teacher Education at the UIW Dreeben School of Education, was named the 2022 University Teacher of the Year by the Texas Council of Teachers of English Language Arts (TCTELA). She will receive the award at the 57 th TCTELA Annual Conference in Galveston, taking place Feb. 18-20. TCTELA recognizes outstanding elementary, middle school, high school and college educators across the state each year.
"I am honored to have been selected," said David. "I know two recent recipients, Lynn Masterson and Carol Wickstrom, and their amazing work with preservice teachers. To be counted among them is one of the highest honors I can think of. I am also so appreciative of my colleague and friend who nominated me, Anna Consalvo." 
TCTELA works to advance the literacy growth of all Texas students by developing a network of diverse professionals and providing professional development based on best practices in education. For more than a decade, David has been involved in TCTELA as an annual presenter and as a member of the Teacher Development Section, which supports administrative staff who work with teachers.
"When I'm working with preservice teachers, I think about all they'll learn about themselves and teaching, how they'll grow, and what gifts they'll bring to education," shared David. "I want them to become the best teachers they can be and continue to grow into the profession of teaching. I also think about my students' future students. At this point, my rough math is that my students will teach about half a million students in their careers. I am deeply grateful for the responsibility and meet it with both seriousness and joy."
David works with professional organizations to support teachers, including her former students. Over the last year, her work on the Standing Committee Against Censorship, part of the National Council of Teachers of English, has been monumental. She works to ensure students' access to diverse reading materials in an atmosphere where politicians want to restrict free speech. As the San Antonio Writing Project co-director, she works with in-service teachers who want to grow as writers and writing teachers.
"I work to read and learn widely to bring ideas, information, articles, podcasts, anything really, into my classroom to support my students in becoming better teachers," added David. "This voracious desire to learn more and get better has proven important as education is in the midst of being remade by the pandemic. School is changing every moment, and I want to support my students as they step into their professional lives in this constantly changing context. It is about being more than flexible, but being 'thoughtfully adaptive.' That means understanding the changes you're making, why they're the right ones at the moment, and why other changes might work at a different time with different students or with other information.
"This award reminds me that my work to support the field of education matters and is valuable. The current challenges in education brought on by the pandemic are just beginning, and the existing challenges of delivering an equitable and inclusive education are still present. At the same time, the enthusiasm, joy, engagement and interest that preservice teachers bring to their work of becoming teachers gives me hope that we can meet this moment."