As One We Will: Inspiring Change and Educating People
February 11, 2022
When TJ Wright and Gerald Bowie III met with the UIW football team in the summer of 2020, they knew they wanted to do more to promote social justice, so together they created a student organization and called it As One We Will.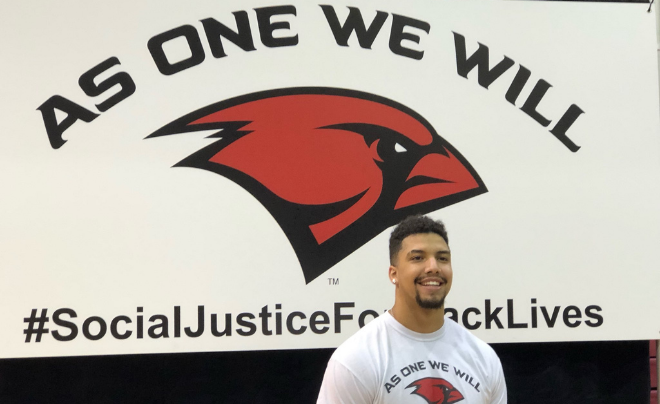 "When we started the group 'As One We Will,' we wanted to bring people together, to create an atmosphere where we can all share the same heart, even if it is not the same views, of wanting to do better for people who didn't have that chance," said TJ Wright.
In the summer of 2020, the UIW football program met via Zoom to discuss and help each other process the death of George Floyd. They talked about ways they could help people, support one another and promote social justice.
Following the meeting, Wright, then a junior, called his teammate, Gerald Bowie III. The pair agreed that the meeting was productive, but that change would not come from just one meeting. Numerous teammates on the call wanted to become educated and do their part to help others.
"We saw that there was a need for some type of organization to create a safe, effective and efficient space to allow people to do that work and really empty their hearts," remembers Wright. "So, we decided to come up with this social justice group and it took off from there."
A group of 26 football student-athletes, coaches and support staff, as well Sr. Walter Maher, CCVI, VP of Mission and Ministry, started meeting to discuss the social justice group. They chose the name "As One We Will" because they wanted a name that would instantly convey the group's commitment to inclusion.
"We wanted to inspire people at the University of the Incarnate Word to go out and do the things that we were saying needed to change," said Bowie. "The name 'As One We Will' put everyone together, as one, behind the group's agenda. Sr. Walter said it best in one of our meetings. She tied it to the Incarnate Word 'One Word' [slogan]. One Word Together. That's why we were so driven and why Sr. Walter supported us so much, because it ties everything together and it goes perfectly with the University and what the University stands for."
Wright and Bowie know they are not the first group of students who wanted to do something to bring about positive social change, but they understood that, as student-athletes, they had a unique opportunity and special platform that other students do not always have.
"When we started the 'As One We Will' group, we didn't want it to be a student-athlete only organization," said Wright. "We wanted everybody. If you have an open heart, and if it's set in your heart to help and inspire change, then come on. Bring it on. It started as a student-athlete type thing, but we always knew that we wanted to make it bigger than that."
Both Wright and Bowie believe change can happen, one step at a time. Communication, education, inclusion and faith-based service are key aspects of the group. Those are the four pillars the two have wanted to emphasize since the start.
"We want to have that safe space for everybody with every type of belief to come in and be educated," said Bowie. "We don't want people to be closed-minded since that's the main part of the problem. We want to change that, so we can help make better citizens for San Antonio, and not only San Antonio, but for the planet, the global society."
"We just wanted to be that group that allowed people to have those uncomfortable conversations, because that's what gets us to work through everything," added Wright. "Communication is one of the best ways to be able to have everybody feel included and everybody feel safe and really secure in their skin, which is important."
Although the group has not been able to have in-person meetings due to the COVID-19 pandemic, the duo hopes they can start meeting this semester. Wright and Bowie plan to have "As One We Will" work with other student groups, such as the Standout Alliance, to change the world for the better. After all, inspiring change has been the goal all along.
As Wright said, the group will work to "create a better place for everybody... a place where equity, fairness, and education just shine through."