UIW Student Nurses Association Receives Two TNSA Awards
January 12, 2022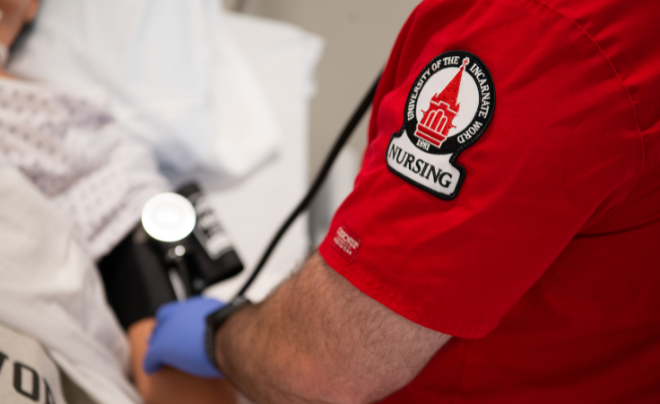 The University of the Incarnate Word Student Nurses Association (SNA) received the 2021 Image of Nursing Award and the Breakthrough to Nursing Award from the Texas Nursing Students Association (TNSA). The TNSA is a direct constituent of the National Student Nurses' Association.
"Our submissions for the TNSA 2021 Image of Nursing and Breakthrough to Nursing awards were uniquely accepted because we provided ample evidence that our UIW SNA goes out of our way to highlight the best image of nursing through community service, and how we strive to end the nursing shortages in our community," said Deanna Shepard, SNA president. "These awards present a remarkable honor for us, highlighting how we came together as a team to receive this prestigious accomplishment.
"I only hope we can continue to expand our recognition in not only our state chapter, but nationally as well. I believe, with the support and team that we have, we can truly cement the UIW SNA chapter as one of the best chapters in our region."
The Image of Nursing Award showcases how UIW exhibited excellence in re-educating people in an effort to help dispel misconceptions the public may have about the nursing profession. The Breakthrough to Nursing Award displays how the University's SNA exhibited excellence in helping increase the number of underrepresented students enrolled in and graduated from nursing school.
At UIW, all nursing students, including those on the Accelerated Bachelor of Science in Nursing track, are active members of the Student Nurses Association. The chapter, which has been active at UIW for more than a decade, has three main purposes: assume the responsibility for contributing to nursing education in order to provide the highest quality of healthcare; provide programs representative of fundamental and current professional interests and concerns; and aid in the development of the whole person, their responsibility for the healthcare of people in all walks of life, and their professional role.
"This opportunity to showcase our chapter is a unique experience for our current UIW SNA Board of Directors," added Shepard. "[The fall was] the first semester that any of us served, so we dedicated our best efforts to showcase the excellence that we can produce. My goal for my term as the UIW SNA President is to go above and beyond to broadcast how truly amazing our community of nursing students is and emphasize our dedication to the call to action to serve those in need."