UIW Senior Wins League of Women Voters Essay Contest
January 14, 2022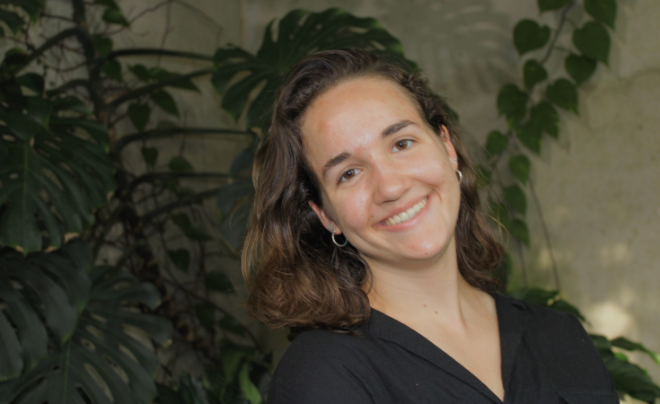 Faith Brough, a senior Rehabilitative Sciences major and pre-Physical Therapy student at UIW, won the League of Women Voters of San Antonio's Our Future: Our Vote Youth Initiative contest for her essay titled "A true democracy is built upon diversity."
"It is an honor to have been chosen as the undergraduate winner of the League of Women Voters contest," said Brough. "I am so grateful to my parents, for teaching me to be an adult who has strong beliefs and cares about others, and to my professors at UIW, for always offering encouragement, support and advice. These people, and many more, have helped shape me, and I look forward to a life and career ahead where I can use my experiences to make a difference in the world and mentor others."
Since registering to vote at 18, Brough has become more interested in politics, and has participated in numerous events as she continues to learn about ways to make a difference.
"Last summer, I participated in a week-long women's leadership and politics conference, a collaboration between the University of Texas at Austin and the Center for American Women and Politics at Rutgers University, which helped me realize how I have the ability to create change in the world through politics," said Brough. "I've continued extracurricular political education last fall and this spring by participating in an advocacy training program through Ignite, an organization that focuses on empowering women to pursue futures in politics."
Brough is set to graduate in May and plans to attend physical therapy school in the fall. The more she has learned about politics, the more active she has wanted to be.
"Through my political learning experiences, I've been able to see that my future career in healthcare is deeply affected by policy, and activism in the political arena for healthcare needs is essential," said Brough.
Although students sometimes submit essays for contests as part of a class assignment, that was not the case for Brough. While working as a personal trainer, she heard about the contest through one of her clients who is involved with the League of Women Voters organization. When she heard about the contest, she knew she needed to send in an entry.
"I chose to submit an essay because I believe that, as a young adult, my voice brings an important perspective and can empower other people as well."
Faith Brough's essay:
A democratic society is one in which each member holds power to make decisions and create change. My vision of a democratic society is one that celebrates diversity. A society where people of all races, genders, sexual orientations, and religions are represented and each of those members feels empowered to use their voice is a truly democratic society. If those in positions of power comprise a small portion of the population and are altogether similar to each other, we will miss out on many new and different ideas.
As a future healthcare provider, I can have many roles within a democratic society. At the most basic level, I exercise my civil duty as an educated and diligent voter. By learning about the government and political process and staying up to date on current events, I can feel confident in my vote and have conversations with others about topics I feel strongly about. When I feel called, I also see the importance of supporting candidates I believe in. As I get older and have more time outside of school, I look forward to getting more involved with political organizations, such as LWVSA, and possibly running for office. I feel strongly about health disparities and access to healthcare, and I know that as my leadership skills and knowledge of political processes develop, I will be able to make change in my community.
As a woman, I am proud to make my voice heard in the male-dominated American democratic society. As a Caucasian, straight, cisgender, middle class, Christian female I also realize that I hold privilege in many aspects of my life and I am committed to making space for people of color, low socioeconomic status, members of the LGBTQ+ community, and people of all religions to share their values and opinions. I know that I will certainly not agree with everyone I come across but will cherish disagreements as a part of a society where everyone has a say. A democratic society does not have the potential to be good because it is easy, but because it is founded on diversity.