UIW Celebrates Black History Month
January 28, 2022
"There is no more powerful force than a people steeped in their history. And there is no higher cause than honoring our struggle and ancestors by remembering." - Lonnie G. Bunch III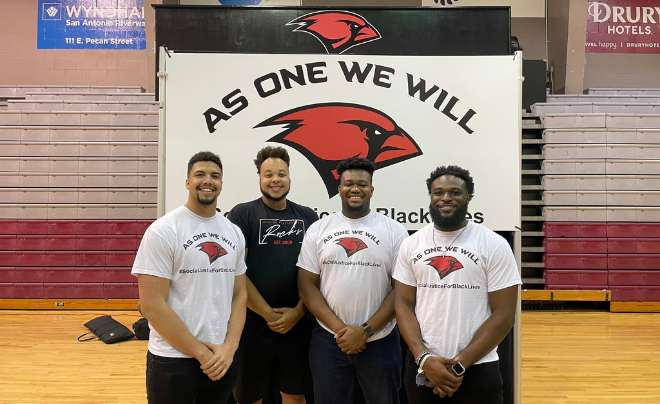 Carter G. Woodson is a name which should, by all accounts, invoke a sense of awe and admiration. He was the fourth of seven children. He worked as a coal miner and sharecropper before beginning his education. He was the second person of color to graduate from Harvard University. He is the only person in history whose parents were slaves to have earned a PhD. This month, we remember him, because Dr. Carter G. Woodson, PhD, is the "Father of Black History Month."
What began in 1924 as "Negro History and Literature Week" has grown into a nationally-recognized observance celebrating the achievements and contributions of Black and African Americans. When he first organized the week of celebrations, Dr. Woodson focused on making lessons and stories accessible, harnessing the impact of schoolteachers and religious leaders. These leaders of hearts and minds continue to guide Black History Month celebrations today, as demonstrated each year at the University of the Incarnate Word.
Throughout the month of February, UIW will offer its community various opportunities to learn and celebrate Black History Month. The scheduled events and experiences provide an extensive range from the lighthearted and fun, to the more thought-provoking and contemplative. Some events will be in person, while others will be held via online portals such as Zoom, offering experiences for all who wish to participate.
With prayer as the first step in all that we do, the community is invited to a prayer for racial justice every Friday during Black History Month at Our Lady's Chapel. For those seeking to be stirred or affected, Alejandro Abarca's photography exhibit, "Humanity in Black and White," about the afflictions of those suffering due to systemic injustice, is one to surely experience. If music is what touches the soul, the concert of Florence Price's work or the presentation of poetry and music by Andrea Vocab Sanderson, are events that cannot be missed. Those focusing on personal education and growing awareness this month will enjoy the various discussions, panels and presentations about the roots of racism, ongoing education, politics, wealth gaps, civic engagement and most importantly, how each individual can take action to create a more just society.
The UIW Campus Engagement team is also providing student-centered events and celebrations. "DiversiTEA," a time-honored tradition among students, offers an opportunity for students to engage in community and conversation. Film buffs will also enjoy a special screening of Black Panther, projected on the side of the Natatorium. The film screening will be complete with delicious food from locally Black-owned businesses, ensuring it will be a night to remember.
President Gerald Ford, the first president to recognize the month-long celebration, said in his proclamation that Black History Month is a time to, "seize the opportunity to honor the too-often neglected accomplishments of Black Americans in every area of endeavor throughout our history." The University of the Incarnate Word's core values of faith, service, innovation, truth, and education connect intrinsically with the spirit and purpose of Black History Month. The community is called to continually seek out ways to manifest these values, and during the month of February, these events and experiences provide such opportunities. UIW strives to shine a bright light on the many contributions, successes, and stories of Black Americans, during Black History Month and all year long.
Find more information about each Black History Month event here