Two UIWSOM Students Published in San Antonio Medicine Magazine
January 28, 2022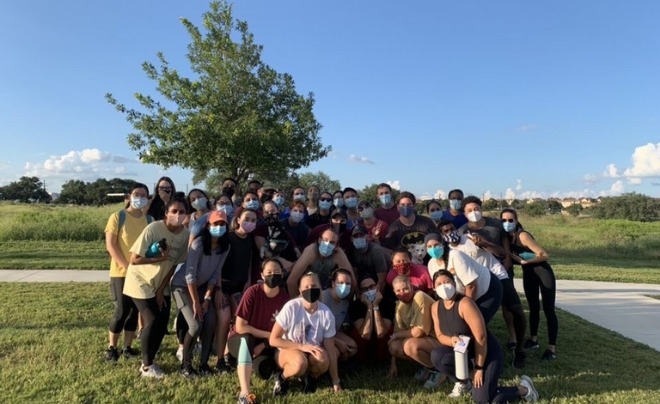 "Medical school is hard and so is running, but as a collective, we endure it together, we grow together, we laugh together and we uplift each other."
So says Victor Martinez of the University of the Incarnate Word School of Osteopathic Medicine (UIWSOM). Martinez and fellow student Andrew Meigs were published in the January issue of San Antonio Medicine Magazine. The article, which appears on pages 18-19, discusses the benefits of the UIWSOM Running and Wellness Club.
Featured in the Healthy Living section of the publication, Martinez and Meigs' article emphasizes the health benefits of an active lifestyle, especially to medical students.
"Over the last five years, research has shown that 50% of medical students experience burnout, and 10% of medical students have suicidal ideations," they explain in the piece. "At the end of the day, medical school can be very demanding and overwhelming, so a healthy outlet is a fantastic way to support our physical and mental health."
The club started in the fall of 2018 with five students, who shared the same goal of staying active and having fun, meeting to run together. After they signed up for the Alamo Half Marathon the next spring, Dr. Rebecca Sanchez, assistant professor of Microbiology, joined the group. Soon, Sanchez and the students formed the official Running and Wellness Club. Now with an average of 20 members, the group is a popular activity at UIWSOM.
"With the vibrant energy and inclusive positivity exuded by the students in this organization, it's no surprise the club has grown into UIWSOM's most active organization," said Meigs. "Now, the Running and Wellness Club is on its way to growing even bigger!"
Initially a way for students to get outside, move and enjoy some company, the club continued to evolve as the COVID-19 pandemic began. They decided to use their informal runs to raise money for the San Antonio Food Bank and have since donated to other charities in the San Antonio community.
"In the past two years we were able to raise pledge donations of $1,850 for miles walked/ran for the San Antonio Food Bank," said Martinez. "This fundraiser has developed into an annual event for our club and we hope to expand and contribute to other causes in our community."
In addition to running, the group has monthly "adventures" that can include hiking, bouldering, spelunking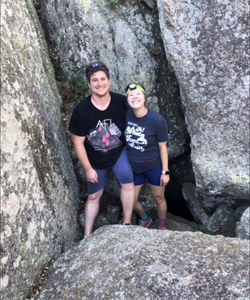 and more, in an effort to empower members of the medical community.
"Not only is this addressing a holistic approach to improve the physical aspect of the body, but it also nourishes the social aspect of friendship and perhaps even a spiritual aspect of unity," said Meigs. "While this physical activity helps train our medical students to be well-rounded as they approach residency, we are also fulfilling UIWSOM's mission by broadening our focus towards a community outside of ourselves."
Both Meigs and Martinez have enjoyed being part of the club as they work on their fitness while growing closer to their classmates, and they hope others in the club have found the same sense of belonging at UIWSOM.
"I love seeing our club members push themselves and accomplish new milestones in their running endeavor," added Martinez. "We have members who have never run before sign up for a half marathon! Being able to witness the growth of these already driven and dedicated individuals has been a huge inspiration for me. I believe our club impacts our members by serving as a physical and mental outlet for them."