Service Spotlight: Rozlyn Bermea and Agapao Ministries
January 28, 2022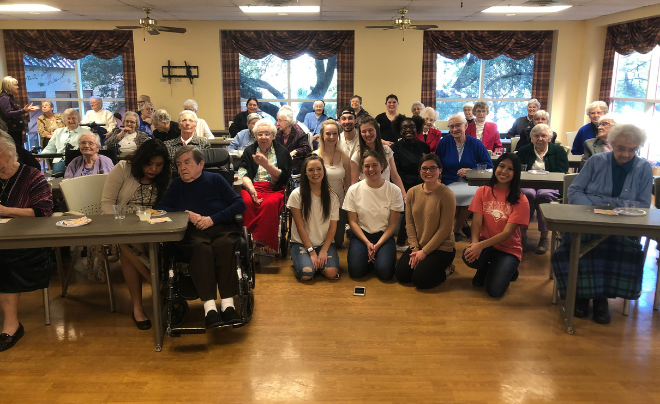 "Agapao is the verb form of Agape in Greek. It's not so much the emotion of love, but the action of love."
Agapao Ministry is geared towards reconnecting the UIW community with CCVI Sisters, including those at The Village at Incarnate Word. When trying to decide on a name for the ministry, Rozlyn Bermea, along with Mission and Ministry staff, tossed around a few ideas. They thought about "Agape Ministries," but ultimately decided that was not the right fit. They wanted to truly encompass how powerful the love of the Sisters is and always has been.
"That's what brought the Sisters to San Antonio in the first place," said Bermea. "They came out of love for others and for humanity, and then their ministry just exploded from there, because of that love. So that's where we came up with Agapao. It's not the emotion of love, but the action of love. An unconditional love."
Bermea, a Master of Arts in Education student at the University of the Incarnate Word, started serving at The Village as a second-semester freshman in 2017 just as a way to collect service hours. But that semester, she met Sister Brigida Smiley and many of the other residents, and her life changed. She continued to visit, even after she surpassed her required hours.
"I kept going because I loved to see her," said Bermea. "My growth in ministry really comes from her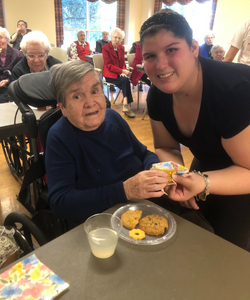 inspiration. She has since passed, but I love to see the other residents, too. And it became not so much me serving them, but in a way, them serving me."
Bermea took that inspiration and started creating new ministry opportunities, such as the Angel Tree Project, where students hand out Christmas gifts to residents during the holidays. Her biggest project, however, is the student group, Agapao Ministries.
During her time serving at The Village over the past five years, Bermea has witnessed how much the Sisters enjoy having UIW students visit, and she hopes to continue giving back to them.
"The Sisters love being able to see our students," said Bermea. "Our ministry is just starting, so there are lots of things that we hope to do in the future. We're hoping to start a new program that will reconnect the Sisters who are living at The Village, as well as the active sisters, with the campus. We are starting a pen pal program, and we're referring to it as a pen pal program, but it's open to emails, text messages, FaceTime, phone calls and any form of communication between students and the Sisters."
Agapao Ministries has several Sisters interested in the pen pal program, said Bermea. Now, they are looking for dedicated students to join the program as well.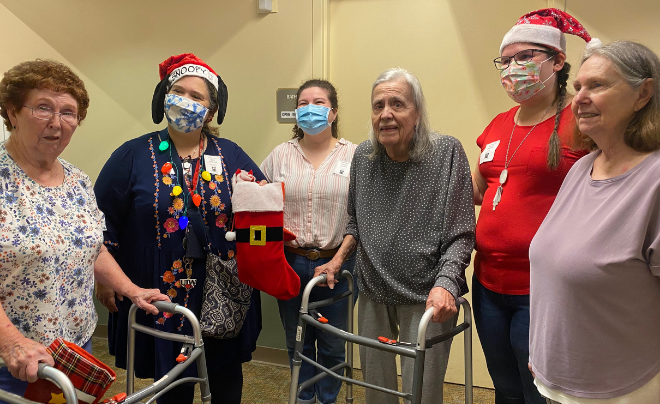 For Bermea, as she reflected on the last five years of serving at The Village, she said she loves how her relationships have blossomed. She wants other students to experience that too, while also giving back to the Sisters who have given so much to UIW and the San Antonio community.
"The best part to me is getting to grow that relationship with the Sisters and even the other residents. I want to be able to give students the opportunity for them to build a relationship with the Sisters, and eventually the other residents, too. But my hope is also to pay it forward to the Sisters who are now living at The Village. It's amazing to see the cycle of life. They at one time cared for us, and now we have an opportunity to care for them."