January 19, 2022
Recognition, Response and Revelation
Recognition: A Pandemic Ensues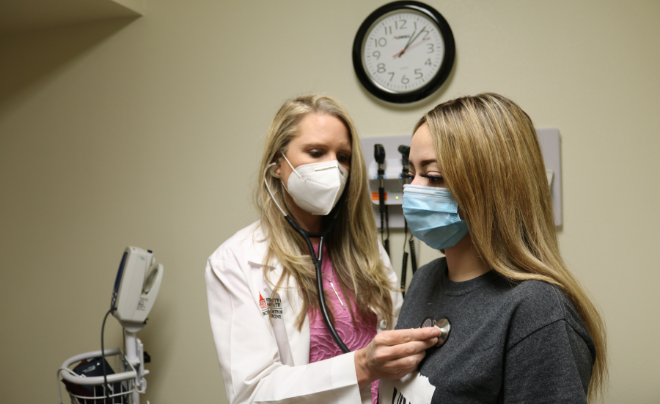 Dr. Ronda Gottlieb, UIW director of Clinical Health, has been part of UIW's team of first responders since the onset of the pandemic. As she recounts, "On Jan. 9, 2020, the World Health Organization (WHO) announced a mysterious coronavirus-related pneumonia in Wuhan, China. At that point, cases were very low in China, but on January 20, 2020, the Centers for Disease Control and Prevention (CDC) began screening for Coronavirus at three U.S. international airports. When the first confirmed U.S. case of COVID-19 was identified in Washington state, the UIW Incident Command team began officially meeting. Soon after our initial meeting, the WHO issued a global health emergency. We knew this was serious because it was only the sixth time this had ever happened. Prior events include the H1N1 influenza pandemic, Ebola outbreak, and most recently Zika."
Gottlieb continued, "The preliminary response for UIW's Incident Response team was to review and update UIW's Pandemic Response Plan to include COVID-19. We also had a core group of individuals from UIW's Safety, Emergency Management, Facilities and the Medical Team attending the city of San Antonio's Emergency Management meetings. From there we had subcommittees that reviewed air quality, personal protective equipment supplies, and medical treatment, and a quarantine and isolation plan was created. In addition, the Office of Communications and Brand Marketing created and issued messaging to the community.. Transitioning to virtual education and services was seamless in the early days of the pandemic. UIW's faculty and support services were pros and many already had experience in virtual education and services."
Response: Testing and Treatment Take a Turn
With that transition to virtual learning and the movement of employees both on and off campuses, UIW found an essential component to community safety included providing easy access to COVID-19 testing. The University of the Incarnate Word has hosted two free COVID-19 testing sites since November 2020. The main campus, located at Broadway and Hildebrand and the UIW School of Osteopathic Medicine (UIWSOM) both provided walk-up testing with results that were available within 36-48 hours. The Curative testing sites are still available to the UIW community as well as the general public.
Following in the footsteps of our founding Sisters of Charity of the Incarnate Word, the UIW community was then able to support both internal and external patients. Gottlieb said, "In UIW Health Services, we had to learn how to become telemedicine providers in two days. We were fortunate to have resources within UIW that helped us smoothly transition, but we have learned that telemedicine is a valuable resource for students who are part of the Health Profession programs or students who do not come to the Broadway campus often. We also found it to be a huge benefit for patients who are diagnosed with COVID-19. Telemedicine allows us to visibly assess the progress of someone diagnosed with COVID-19 without risking exposure to other patients and staff."
But those in UIW leadership were not the only ones stepping up. Students also took on a new role. As a UIWSOM student, TJ Counce got a crash course in what it is like to treat a patient in the "hands-off" world of telehealth. "As a medical student, I understand how useful it is for the provider to be able to gather a history and perform a physical exam in person," said Counce. "You can't listen to the abdomen or percuss someone's chest over Zoom. But we all have to adapt and do the best we can. And right now, the 'best we can' may be turning out to be much better than expected."
"Medical providers are trained to use all of their senses to treat patients, so the limited ability to touch, see, and hear has been a unique learning curve," said Gottlieb. "We have had to become creative and teach our patients some assessment skills like how to palpate an abdomen, how to assess an ear for specific pain, and how to assess for edema. Telemedicine has been available for over 30 years, so thankfully there are a lot of well written resources for it."
Also, over the course of the last 30 years, there has been a huge leap in teleconference technology. Today, many patients and doctors have easy access to technology that allows high-quality video conferencing. Add to that the fact that doctors can more regularly check on a patient's progress using telehealth and do so in a way that, often, requires less time and money.
As for a medical student like Counce, telehealth is evolving into just one more lesson to be learned as a doctor in training. A sign of the times that is likely to be the new normal in the years to come and a chance to turn bedside manner, into web-side manner.
Response: Vaccination Becomes Vital
As months progressed and the coronavirus continued to impact communities all over the world, many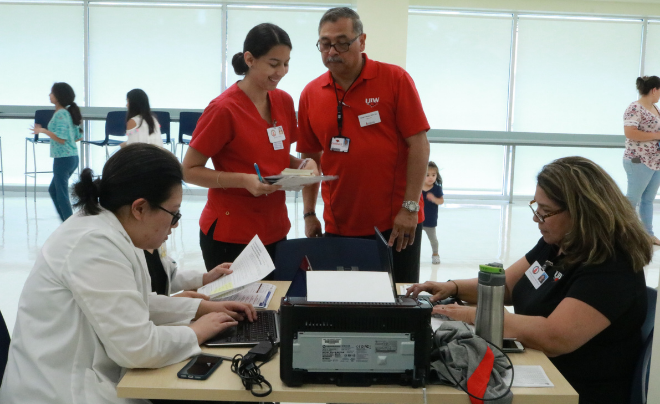 people anxiously waited for a vaccine. Beginning in late Fall 2020, Dr. Linda Hook, assistant professor of Nursing, began working with her team to create a vaccination plan. The first response was to provide vaccinations to UIW faculty and community members in close contact with the faculty. Those individuals were vaccinated at Founders Hall and, in total, approximately 2,000 first and second doses were administered in Spring 2021.
Next, Hook and her team met with city health officials. UIW was asked to focus its vaccination efforts on San Antonio's south and east side. Since then, those teams have taken part in numerous vaccination events. In April 2021, at least three dozen UIW students from the Ila Faye Miller School of Nursing, Feik School of Pharmacy and UIWSOM along with over 100 volunteers, participated in a COVID-19 mass vaccination clinic at Southside High School. The 1,000 administered doses of the Johnson & Johnson COVID-19 vaccine were received through the San Antonio Metropolitan Health District.
"The Sisters of Charity of the Incarnate Word, who founded UIW, came here after being called to help the sick during a cholera epidemic. This is the type of service UIW was created to do," said Hook. "Today we are grateful for the opportunity to continue that Mission to serve in one of the areas of San Antonio in most need of the COVID-19 vaccine."
After successful events at both Southside and Harlandale High Schools, Hook started contacting community churches. Vaccination clinics were offered throughout the summer at Greater Court Baptist, Second Baptist, and Ephesus Seventh Day Adventist. By mid-summer, the clinicians realized that many students were behind on their traditional immunizations as well. School nurses were not enforcing State Immunization requirements during the virtual school, so many students needed not only the COVID-19 vaccine, but also many other immunizations. Thus, during the months of July and August, approximately 785 patients were administered a total of 2,400 vaccinations by UIW volunteers.
Today UIW continues to move forward in this effort. The University recently received $16,326 in funding to provide COVID-19 vaccinations to residents in primarily rural parts of Bexar County. UIW received the funds through a grant from the Houston-based Episcopal Health Foundation awarded to members of The Health Collaborative in San Antonio, of which the University is a part. The funds will allow UIW faculty and students to coordinate and take-part in six COVID-19 vaccine events between September 2021 and February 2022.
"Throughout the pandemic, UIW faculty and students have been on the front-line in helping others," says Dr. Holly Cassells, dean of the Ila Faye Miller School of Nursing and Health Professions. "We have been blessed to be a part of literally dozens of pop-up and day-long clinics throughout Bexar County delivering the COVID vaccine to anyone who wants it. We are thankful to the Episcopal Health Foundation and The Health Collaborative for allowing us the opportunity to continue this mission in the spirit of our founding congregation, the Sisters of Charity of the Incarnate Word."
Response: UIW Uses MOM to Serve the Community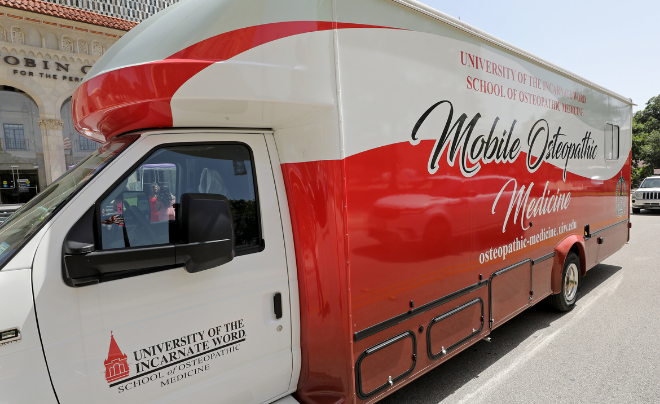 Vaccine clinics and healthcare drives provide life-changing services to communities, but for those who cannot travel to access care, they remain out of reach. To help remedy that problem, UIWSOM set out to deliver care where it is most needed. With the support of the Moody Foundation, UIWSOM launched a mobile medical clinic called the Mobile Osteopathic Medicine unit (MOM). The 29-foot vehicle allows medical students and faculty to provide services including osteopathic primary care, immunizations, health screenings and more.
The mobile unit was dedicated during a ceremony on July 24, 2021, and named after the late Sam Wages, who worked for UIW for nearly 19 years. Wages was the director of Procurement and Business Support Services and oversaw the shipping and receiving, postal operations, purchasing and vehicle services divisions.
The MOM unit also acts as a training ground for the healthcare workers of tomorrow. "Osteopathic medical students, and other health professional students, can now take the classroom to the community," said Dr. Hans Bruntmyer, UIWSOM associate professor. "This unique opportunity will help cultivate not only empathetic and compassionate providers, but also cohesive interprofessional health teams. We feel this vehicle is helping to fulfill the call of Bishop Dubuis, 'Our Lord Jesus Christ, suffering in the persons of a multitude of sick and infirm of every kind, seeks relief at your hands.'"
Revelation: Realizing the Future
Today, the Cardinal community is rising out of the pandemic with a new vitality. Cardinals have brought new vibrancy to UIW campuses and engagement has grown.
"I am most proud of how thoughtfully and safely UIW brought students and employees back to campus in August of 2020," said Gottlieb. "The plan for return to campus was well orchestrated and a true team effort that began as soon as the University transitioned to virtual learning in March of 2020. The Incident Response team created a reopening plan that involved every department within the University, but also included different scenarios based on community spread of COVID-19 within San Antonio. The pandemic caused many challenges for the students and employees of UIW, but it also helped us become more resilient and empathetic. Over the past two years, mental health, diversity and inclusion, and wellness have become important topics that we openly discuss and reflect upon on campus. I see the resilience in UIW's students and employees. Many have overcome adversity and grief caused by the COVID-19 pandemic and have continued to focus on the Mission of UIW to educate men and women who will become concerned and enlightened citizens within the global community. UIW students and employees have graciously offered the service of their time and skills to help UIW and the surrounding community by participating in COVID-19 vaccine outreach, mental health awareness events and social justice events. Despite many obstacles, UIW has thrived as a community that supports one another and thoughtfully communicates to promote mutual understanding."
One of the biggest takeaways Dr. Hook has seen is "this Can-Do Attitude that we have now. By us being seen as UIW professionals and nurses in the community, the community is realizing medical support isn't just at the hospital," we will come to you! Hook also shared how wonderful it is for the students to see their own power. "They may be in school, but their power to help their community while they are at the University is very powerful; always has been and always will be!"
As a result of this work, Dr. Ronda Gottlieb was named this year's San Antonio Express-NewsSalute to Nurses "Best in Class" Nurse Practitioner and was named a "Health Care Hero" by the San Antonio Business Journal.
Additionally, Dr. Linda Hook has been named the winner of the 2021 Ruth B. Freeman Award for teaching and service in public health.
The University is grateful to everyone for their roles in recognizing the pandemic, responding to the vital needs of the community, and realizing a future that makes us stronger community members and global leaders.