Living the Mission and operating as One Word
January 20, 2022
UIW Athletic Director Richard Duran works hard to help the department live out the Mission and core values of the University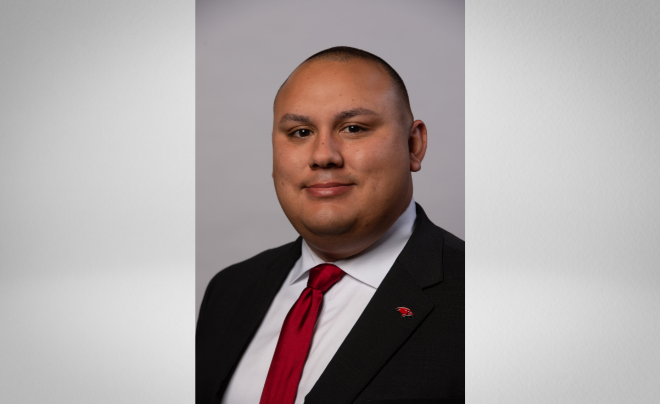 When Athletic Director Richard Duran – who came to UIW as the deputy athletic director in October 2017 – took the reins of the department in August 2019, he says the department was operating as a silo rather than working with its campus partners. Duran understood that this needed to change.
Strong campus partnerships are one way Athletics tries to live out the UIW Mission and core values of faith, education, innovation, service and truth. Duran believes that working together as One Word will help the staff, student-athletes and coaches be better human beings and better Cardinals.
Through building relationships across campus and ensuring that Athletics follows through on its commitments, Duran believes the department is earning trust. When the COVID-19 pandemic began in March 2020, Athletics reinforced that trust, volunteering the resources it had to help the University continue moving forward.
That is the type of service that Duran wants the department to be known for in the community. In 2015, Amanda Pulido arrived at UIW as the life skills coordinator responsible for professional/personal development and community service for the department. Since Pulido joined UIW, the department has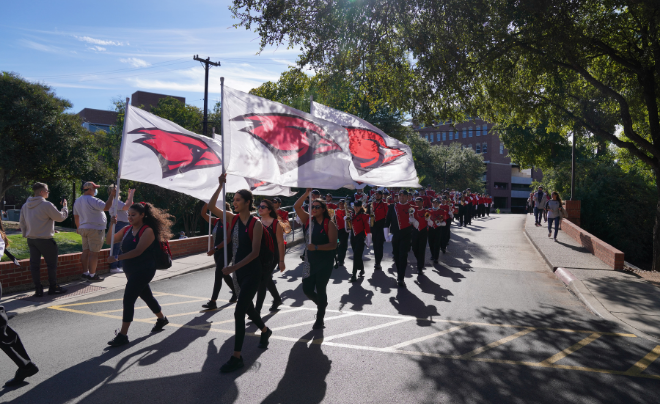 volunteered for more than 5,000 hours each academic year, with the exception of 2020-21 during the COVID-19 pandemic. That year, with in-person activities limited, the Cardinals still managed to rack up 4,896 volunteer hours.
"We have done an excellent job over the past few years, even during the pandemic, of being creative and finding ways to give back," said Duran. "Our student-athletes really enjoy it. We are always looking for ways where we can continue to serve not only UIW, but the greater San Antonio community. I'm thankful that our student-athletes embrace it, along with our coaches and staff."
Living the UIW Mission and core values helped Duran develop two important rules for the Athletics Department. The first rule, he said, is simple: do the right thing for the right reason.
"No person on our team is going to be perfect, and we understand that, and we want the best that they can give," he said. "We ask that when we are making decisions – whether that's our student-athletes, our staff or coaches – the decision-making process should be for the greater good of UIW."
The second rule is called the Roger Rule. Duran said this rule has been developed over the last two years.
"We have a custodian by the name of Roger Bentecourt, and he is one of the hardest working, most amazing human beings I have ever met in my life. I hope our department can not only bring that same life to work every day, but I would also expect everybody on our staff to treat Roger the same way they would treat Dr. Evans, our University president, and that's with dignity and respect. We are all human beings, and we can all be that light in someone else's life each and every day."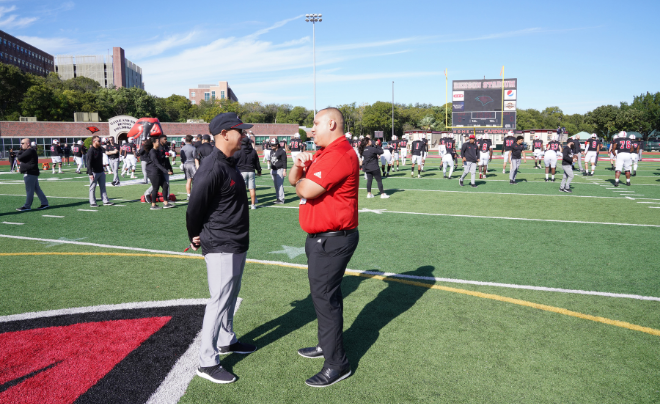 Additionally, Duran has developed three overarching goals for UIW Athletics. Called the three Cs, he wants UIW student-athletes to be champions in the classroom, in the community and in competition.
"When we look at who we are as an institution, these three items help us understand how our Division I sports fit into the big picture," he said. "We are going to do everything we can to graduate our student-athletes and make sure they are doing their part and walking away with a degree. We also have to give back to the community that serves us. With UIW being a service-driven institution, that's vital for the success of our Athletics Department and our leadership development of our student-athletes. Last, we want to win every time we step between the lines, whether that's on the football field, the tennis court or on the golf course. We want to compete and we want to win."
Although champions in competition is third on the list, it is important to him that UIW Athletics competes at the highest level of the NCAA. However, when faced with tough decisions during the Summer of 2020, Duran prioritized the health and safety of UIW Athletics, working with the UIW medical team and campus leadership to postpone all Fall 2020 competitions.
Following the postponement, UIW Athletics prepared for a busy semester. Ultimately, the department had 23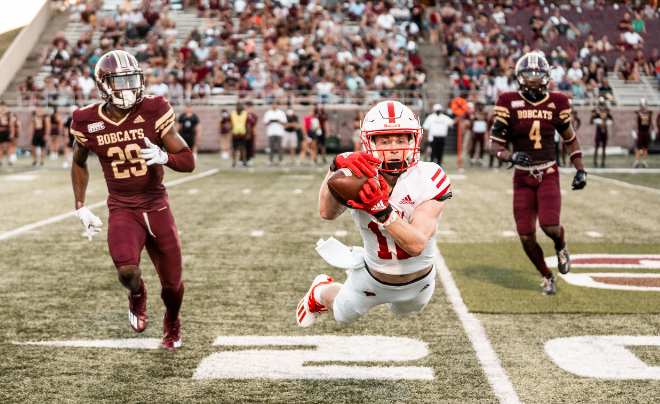 varsity teams participating in 246 competitions (with 96 home events), while also co-hosting the NCAA Women's Basketball Tournament, which included 63 games over 15 days.
"I cannot thank the staff, the University and the community enough for supporting that effort during trying times," said Duran. "It was tough and it was tiring, but our staff, our coaches and our student-athletes answered the bell each and every day, and they got to participate and compete in the sports they love."
While Duran is proud of his department for how they handled the spring, he acknowledged that it would not have been possible without the help of partners across campus.
"We couldn't have gotten our student-athletes back in competition without the support of our campus partners. That only reinforces my belief that if we form strong partnerships and support one another, not only will we make our Athletics Department the best it can be, but we will support our institution so it can be the best it can be."