Listen, Learn and Take Action with La Palabra
January 14, 2022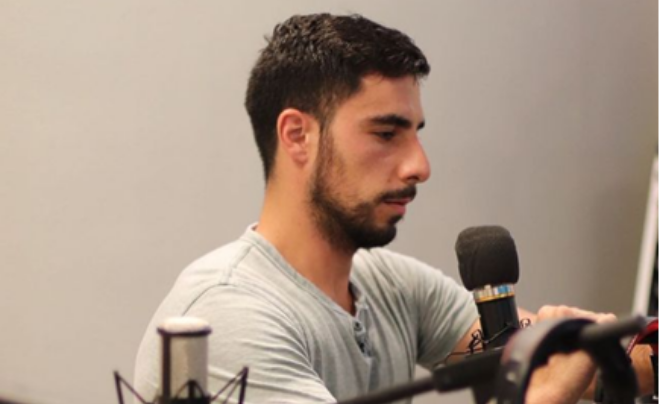 Podcasts are everywhere; they saturate the social landscape and are even the subject of television series on streaming services. Whether or not one is a fan of podcasts, their ubiquitous accessibility is undeniable, and the University of the Incarnate Word's Ettling Center for Civic Leadership and Sustainability aims to harness this medium as a tool to inspire positive action.
On Wednesday, the Ettling Center debuted its podcast, La Palabra on the streaming service, Spotify. Its inaugural episode featured a conversation with the center's director, Dr. Ricardo Gonzalez, discussing the Ettling Center's mission and activities within the UIW community. Future episodes will cover an array of topics, but throughout all of these, the host aims to produce content that is informal and approachable. Guiding the discussions is La Palabra's host, Jorge Luis Quintero, a graduate student at UIW. He spoke about his plans for the podcast describing his aims to have genuine discourse with impactful people and ensure that the community is informed and feels included.
"We want people to hear their voices and feel connected," he explained. Jorge Luis is no stranger to the medium, having produced his own podcast amassing a library of almost sixty episodes. When asked why he prefers podcasts over other communication avenues such as videos or social media, he said it was because of the flexibility it lends itself to. "It can be anything," he said. "It can be storytelling, it can be very serious, but I think that podcasts are an art." And indeed, throughout his episodes and their diverse subject matter, Jorge Luis and his guests will practice an ancient and arguably disappearing art – conversation.
When reflecting on the content of this podcast, Jorge Luis said that the act of speaking, and the opportunity to truly listen to the guests' responses and share these experiences with the community is why he endeavored to bring this podcast to life. "I love to converse with people, because you get to learn from someone else's perspective, so that can then shape your perspective. Because if you listen, which is one of the most important qualities … you learn, and that can help you out a lot."
This genuine and live conversation does inherently carry the risk of the unknown; the unscripted nature of these interactions means the host does not know where an answer might lead, but this was part of what drew Jorge Luis to this artform. "It's part of the appeal definitely. For the first 30 of 40 episodes, I was nervous, but when you do your research, and you really prepare that goes out the window! So now wherever the conversation goes, any direction, I have that confidence." He teased about future episodes to come for La Palabra mentioning extensive research on global refugee statistics to prepare for a conversation with UIW professors.
Speaking with Jorge Luis, it is easy to forget that he is a student; the ease with which he speaks feels more akin to that of a sage tenured professor, a quality most beneficial to a podcast host. But in his own words, it is important that the host of these conversations be a student. "One of our five core pillars of the University is Innovation, and with this [podcast] innovation, it is student and faculty [working together]…and I do think it is important that it is students who do it, because at the end of the day, the voices that will be heard are the students. If students are not talking, are not acting, there will never be any change."
Using this podcast as a tool for the campus community is just one of the goals Jorge Luis has in mind for the future of the project. He hopes that as it develops, the podcast and the communal spirit it aims to create, can be promoted to future UIW Cardinals, illustrating the inclusivity of the University. He hopes to extend this inclusivity beyond the San Antonio community and create connections and "collabs" with campuses in Mexico and Europe as well. "I want it to be the biggest college podcast in the nation, and I believe it can be."
La Palabra and its production are sponsored by the Ettling Center for Civic Leadership and Sustainability. The podcast is structured around and embraces the mission of the Center, specifically "in the spirit of Christian service, to develop leaders who promote social justice in partnership with diverse local and global communities." It is in this spirit that Jorge Luis hopes that the community of the University of the Incarnate Word and beyond will be inspired by La Palabra's weekly episodes to "Open your mind, soak in the information, and take action!"
You can find La Palabra on Spotify by searching "UIWECCLS: La Palabra"