January 20, 2022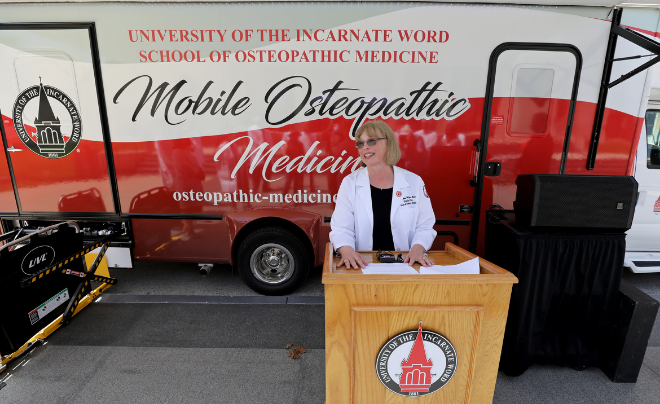 As the UIW School of Osteopathic Medicine (UIWSOM) founding dean, Dr. Robyn Phillips-Madson prepares to retire, she reflects on her time helping start UIW's osteopathic medical school.
"To be a founding dean has been an incredible experience," said Phillips-Madson. "The more I learned about UIW and the position, the more I was convinced that this was a mission and university I could commit to wholeheartedly."
Phillips-Madson arrived at the University in November of 2013 when UIWSOM was in its beginning stages. Getting a medical school off the ground was nothing new to her. She had already served as dean of another medical school during its first year of classes. She knew what the expectations would be, and she thrived on them.
"This was a once in a lifetime opportunity to cast the Vision and Mission not only in the context of a university focused on loving God and serving people, but also dedicated to a learner-centered, integrated medical education curriculum built on principles of adult learning and social accountability," she said.
From the earliest days, Phillips-Madson has overseen spectacular growth and major milestones for UIW's medical school. In Spring 2021, UIWSOM celebrated many firsts. March saw its first round of upcoming graduates experience Match Day, where they found out where they would complete their residencies. Two months later, those same learners became the first graduates of UIWSOM.
In May, UIWSOM also announced it had been granted full accreditation from the American Osteopathic Association's Commission on Osteopathic College Accreditation. Through it all, Phillips-Madson says her greatest joy has been working with and watching the learning community of UIWSOM grow.
"From the learners in our inaugural class and all those who followed them, to the faculty and staff whose dedication to the mission inspires me every day," she said. "Witnessing the growth of the UIWSOM from an idea to a thriving, fully accredited D.O. program with M.B.S. and M.P.H. programs has been very fulfilling, and I can't wait to see what happens next."
Phillips-Madson was thrilled to watch the first class of graduates cross the stage in May. Some learners were UIW's first graduates with a master's in Biomedical Sciences, while some earned their Doctor of Osteopathic Medicine (D.O.) degrees. Phillips-Madson says it was a blessing watching all graduates blossom over the years.
"Our inaugural class will always be my first favorite class," said Phillips-Madson. "Learners who choose to attend a brand new school are pioneers. I appreciated their feedback while they were here, and look forward to their continued feedback as residents and physicians in practice."
Phillips-Madson is set to retire on May 31, 2022. As she reflects on her time here, she is happy she chose to become part of the UIW community eight years ago.
"Words are insufficient to express my gratitude to the many people who welcomed me and my husband to San Antonio and UIW, and supported UIWSOM throughout our start-up years. I will carry fond memories in my heart of the precious people I encountered here, and will be forever grateful for their prayers and commitment to the charism of the Sisters of Charity of the Incarnate Word. Praise be the Incarnate Word forever and ever!"