AVS Research Lab Receives Grant from Sisters of Charity of the Incarnate Word
January 13, 2022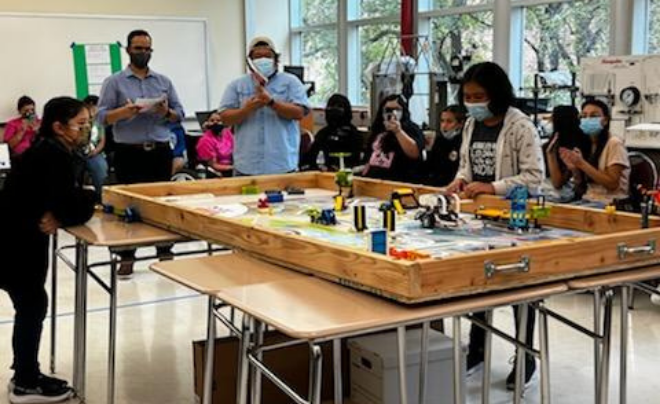 The University of the Incarnate Word's Autonomous Vehicle Systems (AVS) Research Lab is excited to announce a new award from the Sisters of Charity of the Incarnate Word benefitting the GEMS (Girls in Engineering, Mathematics, and Science) program. A generous $5,000 award from the CCVI "Sisters supporting women for a better world" grant will help support the program's miniGEMS after-school clubs for the upcoming FIRST LEGO League (FLL) competitions.
"Working with Sr. Walter and Mission and Ministry since 2015 has been a critical reason why GEMS has been so successful," said Dr. Michael Frye, professor of Electrical Engineering and principal investigator of the AVS Research Lab. "GEMS has focused on social justice, female empowerment and access to free quality STEM education since its inception because of the hard work of UIW students, staff and faculty. It has been through Sister's constant encouragement and vision that GEMS has been able to continuously grow and be of service to middle school and high school girls in San Antonio. It is an honor to have received the inaugural CCVI grant to help GEMS for 2022!"
GEMS is a free all-girls STEAM (Science, Technology, Engineering, Art, and Mathematics) and programming camp and after-school program that focuses on educating young girls about opportunities in various industries, particularly in STEM fields. The GEMS program includes miniGEMS, a camp for middle school students, and megaGEMS, a camp for high school students. The camp recruits students directly from several school districts within San Antonio. The mission of GEMS is to inspire and empower young girls to think about a future career in STEM.
The CCVI grant will help fund the Elolf and Barkley-Ruiz Elementary and Tafolla Middle School miniGEMS clubs. These clubs are currently preparing their teams to think about the sustainability of future transportation systems, the theme for this year's FLL competition. Each after-school club attended a GEMS Mock FLL Competition on Dec. 4, 2021 at Bonilla Science Hall in preparation for competition this spring. There are currently four miniGEMS teams from three schools registered for the first round of competition in February.
The GEMS summer camps are scheduled to resume in June.