A lifetime of Teaching, A legacy of Learning
January 19, 2022
The Dr. Mike McGuire Scholarship Endowment for Mission-Inspired Business Leadership seeks to leave a Legacy of Mission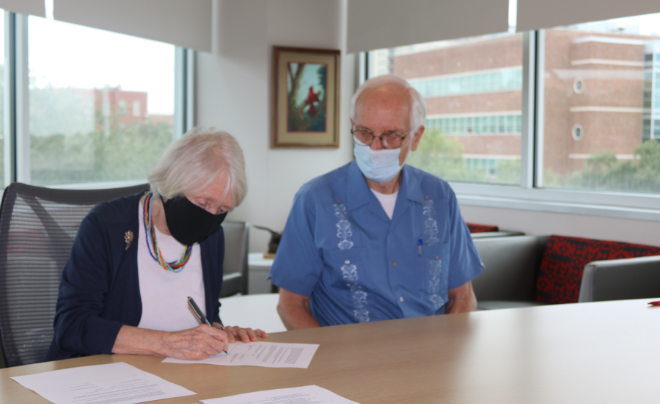 "The spirit, the very beautiful, caring spirit of the Incarnate Word, is the first step towards good living." 
So says Dr. Michael McGuire, and it is in that spirit that McGuire spent 31 years as a professor of economics at the University of the Incarnate Word. It is in the legacy of that spirit that McGuire and his wife, Patience, also a retired educator, have established the Dr. Mike McGuire Scholarship Endowment for Mission-Inspired Business Leadership. The $300,000 endowment will allow for a $10,000 scholarship to be awarded to one business student every year. Recipients of this scholarship must not only show accomplishment in the classroom, but a true understanding of the Mission of UIW.
"I came to Incarnate Word because it is a Christian university, and the Mission is a very exciting Mission – to contribute to building the Kingdom of God on Earth, which for me means family," says McGuire. "We start the Lord's Prayer with 'Our Father.' We all have one Father. We're all brothers and sisters. We should have a system, a world, in which we are living together as brothers and sisters. The mission of a Christian university is to contribute to building that world, and I think it's wonderful to be able to participate in a university that does that."
McGuire's understanding of mission came early in his career. It was a trip to Central America as a student at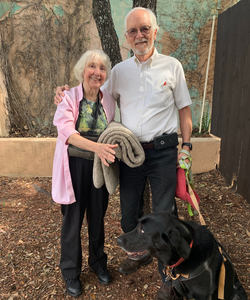 Saint Louis University that fostered what would become the focus of his research and life's work: the public finance of satisfying the basic needs of society's neediest people. McGuire believes business plays a vital role in society. It's that idea that he brought to the classroom, placing an emphasis on the Christian call to support the poor. He has always encouraged his students to fulfill this call through ethical business practices.
In 2000, McGuire was selected as the Moody Professor, the highest faculty honor bestowed by UIW. He was also recognized in 2005 with the CCVI Spirit Award. And it is that type of dedication to the Mission that McGuire hopes scholarship recipients will come to exemplify.
"It is such a blessing to have the support of people like Dr. Mike McGuire and his wife, Patience, who embrace and live the Mission of UIW," says Dr. Thomas M. Evans, UIW president. "Beyond the noble purpose of supporting students along their journeys, the McGuires also hope to contribute to social good. Dr. McGuire once shared with me his philosophies that the work of business is entrepreneurial, but also very much about social justice and that a good business person is a wonderful gift to society. It is this kind of Mission-mindedness that sets this endowment apart and will foster the development of ethical leadership in future business professionals."
The endowment not only asks students to excel in the classroom, it asks them to experience the Mission of UIW in a whole new way. Each scholarship recipient must study several documents including the UIW Mission Statement and the Encyclical Letter on Care for Our Common Home written by Pope Francis. The student must also commit to 25 hours of service in the community. Then, based on those documents and their service, the student will write, present and offer for publication a paper or case study, that incorporates their experiences. The paper will be presented at an awards ceremony at the end of the year.
"We wanted to make an investment that would promote thinking about an inviting spirit of the Incarnate Word because that will then lead to good business action, which is a powerhouse," says McGuire. "Businessmen have a tremendous power to do good in the world. They just need to start with the right spirit and put it into action."