UIW School of Osteopathic Medicine makes First Residency Matches
January 29, 2021
Proud Members of the Military First in Inaugural Class to Establish their Future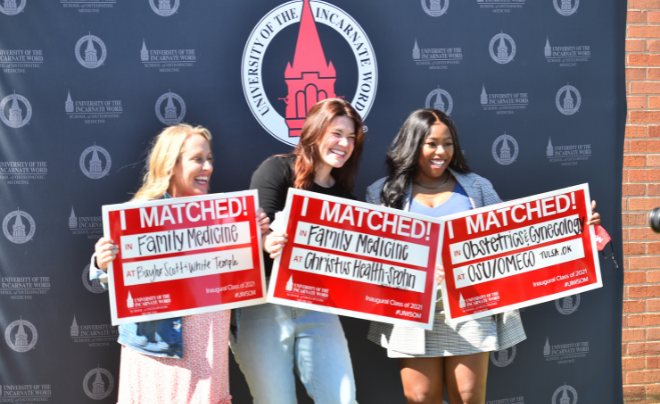 San Antonio – The University of the Incarnate Word (UIW) is proud to announce that a group of military members are the first from the UIW School of Osteopathic Medicine (UIWSOM) to establish their future in medicine by being matched for residency programs with military hospitals across the nation. UIWSOM is preparing to graduate its Inaugural Class of medical students in May 2021.
"This is obviously an exciting time and a major milestone for the University of the Incarnate Word School of Osteopathic Medicine," says Dr. Robyn Phillips-Madson, dean of UIWSOM. "We are very proud of the UIWSOM Health Professions Scholarship Program (HPSP) students who are the very first to match into military residency programs. Each one is to be commended for their commitment to serve our country and for their exemplary efforts as members of our inaugural class. I have no doubt that they will be excellent residents and serve their future patients with compassion and competence. The SOM is pleased to support the HPSP here in Military City, USA, particularly because our school is located at the former site of the USAF School of Aerospace Medicine at Brooks."
The military match took place on Jan. 6. UIWSOM had 8 learners who matched that day:
Jay Feitshans, Internal Medicine, El Paso
Rami Alattar, General Surgery, Naval Medical Center Portsmouth (VA)
Michael Walston, General Surgery, Naval Medical Center Portsmouth (VA)
Marc Nicholes, Transitional Year, Madigan (WA)
Andrew Maxam, Radiology, Madigan (WA)
Reggie Taylor, Family Medicine, Fort Hood
Steven Cummock, Transitional Year, Brooke Army Medical Center
Adriana Campo, Transitional Year, Naval Medical Center San Diego (CA)
UIWSOM will graduate its inaugural class of medical students this May with a Match Day event taking place on March 19, 2021 for the rest of the graduating class.