Two UIW alumnae named Top C-Suite Executives by the San Antonio Business Journal
September 28, 2021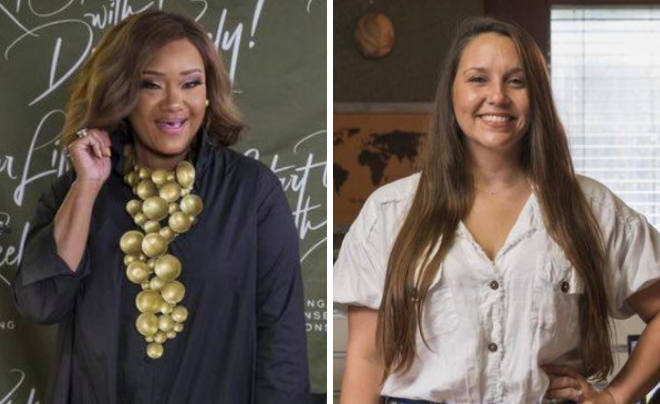 Two UIW alumnae were named Top C-Suite Executives by the San Antonio Business Journal last month. Kim Beechner '10, '15 (right), and Dr. Keely Petty, '94 (left), were two of the 20 honorees selected by the journal.
The prestigious award recognizes outstanding CEOs and other C-level executives who demonstrate exceptional leadership in the San Antonio community.
Kim Beechner – CEO of Embark Marketing 
Beechner is the founder and CEO of Embark Marketing, a Texas based, digital marketing agency specializing in the food and beverage industry. An experienced professional in the food and service industry, Beechner started Embark Marketing more than 10 years ago.
"It was an honor to be selected by the San Antonio Business Journal for their 2021 C-Suite Awards," said Beechner. "There were so many incredible recipients and I felt proud to stand beside them to represent both our community of business leaders and the University of Incarnate Word."
When the agency was in its early stages, Beechner worked with UIW's MBA Capstone class, exploring ways to grow the business. A group of MBA students was assigned to consult with and develop a strategy for Beechner and Embark Marketing. The team in Dr. David Vequist's Capstone course researched and worked with Beechner, discussing the current business processes as well as future goals. During the final presentation, the consulting group recommended that Beechner focus her business primarily on the food and beverage industry, a strategy that has since paid off.
Vequist remembers Beechner as student enrolled in his undergraduate Business Capstone class as well. He recalls that she stood out even then, because she was so "engaged, committed, fierce, hard-working and not at all reluctant to develop herself day after day."
"Having students like that makes you feel very blessed and fills your heart with joy," said Vequist. "In addition, it gives you this rush of internal energy to work harder to try and inspire even more young people."
For the last 10 years, Embark Marketing has continued to grow, and Beechner's reputation has spread well beyond San Antonio.
"I am so very proud to have been part of and witness to UIW students helping fellow students to have better lives and create a meaningful impact in their communities," said Vequist. "Kim is another incredible example of the excellent leaders we produce out of the H-E-B School of Business and Administration."
"I feel that attending UIW for both my undergraduate and graduate degrees provided me the foundation that was needed to achieve success in both running my business operational, and providing clients valuable marketing services," added Beechner.
Dr. Keeley Petty – CEO of Kick-Start your Life 
Dr. Keeley Petty is the CEO of Kick-Start Your Life where she is a certified life coach, cognitive behavior therapist, temperament counselor, community health worker, certified mental health coach, recovery coach, and a substance abuse prevention training specialist. Petty has a stellar reputation as an empowerment specialist, transformational innovative thinker, and a life strategist. She graduated from the University of the Incarnate Word with her bachelor's degree in Communications and continued her education by earning a master's and doctoral degree in Christian Counseling.
Dr. Petty has received numerous awards for her transformative volunteer and community work from The San Antonio Business Journal Women's Leadership Award, and the Unsung Hero Spirit of Giving Award, and C-Suite. The San Antonio Women's Chamber of Commerce, TOP Ladies of Distinction Community Service, Public Relations Society of America, and has received honors from Texas Governor Greg Abbot for her community impact, and has served as Commissioner on San Antonio's Mayors Commission on the Status of Women, a L'Oreal Paris Woman of Worth nominated, and is on the Board of the Global Chamber San Antonio, and the Center For Health Care Foundation Board. She has served as Chair of the San Antonio Dr. Martin Luther King, Jr. Commission where San Antonio hosts the largest march in the nation with 375,000 marchers.
Her company's "strategy sessions are a positive and energetic approach that help clients solve problems, as well as spark ideas, innovative goal setting, and measurable markers that help you live the life you want."
Congratulations on your amazing accomplishments, UIW alumni!