Love for family, music and UIW
September 24, 2021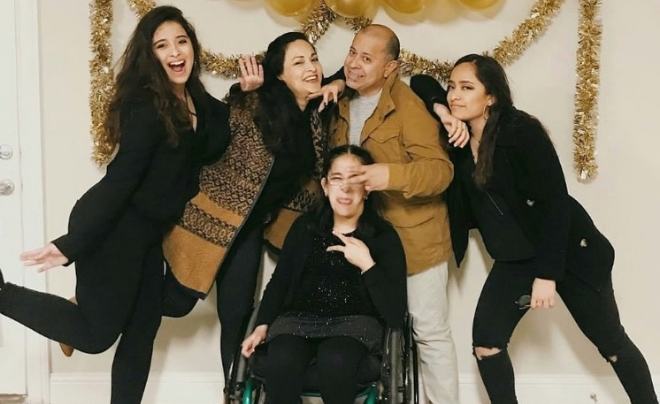 "UIW is a school that feels like home."
Ambar Valtierra, a senior in UIW's Music Therapy program, moved to Houston from San Antonio at age two. After attending two other higher education schools before becoming a Cardinal, she is happy to be back home in the Alamo City and at UIW.
"The beautiful trees surrounding campus, the old buildings and small classrooms are so inviting," Valtierra said. "I'm happy to be spending the rest of my college career here."
A soon-to-be first-generation college graduate, Valtierra works hard so she can make her family proud. Outside of her music mentors, her parents, who moved to the U.S. from Mexico, are her biggest role models.
Valtierra was born to a family that has music in their blood. Her father has always been a good singer, and his father played guitar and sang in a mariachi band. Although Valtierra has always enjoyed music, her interest blossomed as she grew up.
"I really took a strong interest in music after joining band in middle school, and then even more at 18 when I started teaching myself guitar," said Valtierra. "I was always interested in guitar, but I didn't actually start learning until after high school because I was more focused on school, band and sports."
Valtierra started college as a pre-med student who loved music. While teaching herself guitar during her freshman year, she realized how much music meant to her outside of participating in the school band. When she learned that she could combine her love of music with health professions through Music Therapy, she knew that was what she wanted to do.
"Marching band was a huge part of my life in high school, but I couldn't see myself as a band director so I didn't consider a music-related career at first," said
Valtierra. "However, after reading about music therapy and seeing how it's basically music working in health care, I knew that was the path for me."
Valtierra feels fortunate that UIW was one of the few schools in Texas that offered her chosen major. The University also had another thing Valtierra loved – she quickly joined the Marching Cardinals.
"Being in the Marching Cardinals enhances my time in college by giving a sense of importance while offering that familiarity of marching band, and immersing me into the school spirit of the band," commented Valtierra.
Since becoming a Cardinal, Valtierra appreciates how helpful the Music faculty have been. An excellent student who does well in her classes, she acknowledges that the support she has from her teachers and band director, Dr. Brett Richardson, are important for her overall growth.
"The Music faculty is very helpful. Dr. Richardson is always available and ready to answer questions and assist with any issues," said Valtierra. "Also, my professors in the Music Therapy department are always going above and beyond to help us. Outside of class lectures, they give examples and speak from personal experience of when they were in our shoes."
Learning from professors who have been there helps Valtierra grow in her knowledge of the field. A talented musician in her own right, she shows great potential in Music Therapy, an area she sees as helping the whole person.
"The power of music, not just holistically, but in the health profession through therapy, is astounding," said Valtierra. "It helps people recover from brain injuries and physical impairments, aids in mental health, and much more. It's not just an emotional tool. It can yield tangible results, physically and mentally."
Valtierra is looking forward to proudly calling herself an alumna of UIW and is excited to see how the Music Therapy program continues to grow. She hopes to be the type of student who professors can use as an example of how much is possible after graduating from the music program, and she is planning to pursue a career as a board-certified music therapist working with people with disabilities.
As she works to achieve these goals, her family remains her biggest inspiration. 
"I look up to my parents who have supported me every step of the way in my college career," said Valtierra. "They came to the U.S. with very little and worked hard to provide my sisters and I with so much, and I want to make them proud as I give back to others through something that I love."