Your Journey. Our Mission. Meet Antonio.
December 3, 2021
Your Impact
When you give to UIW, you help over 9,000 Cardinals enrolled across the globe thrive in their journey to become the next generation of educated and compassionate leaders.
From the classrooms to the athletic fields, our Cardinals are committed to the time and work needed to make the most of their UIW adventure.
Experience the impact of your gift with stories of these inspiring students throughout this holiday season.
Meet Antonio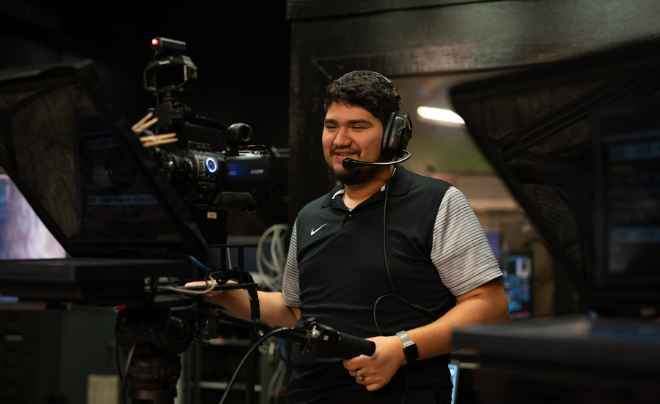 Antonio Bocanegra is a brilliant example of how your generosity can change lives.
A first-generation college student, Antonio is the oldest of three siblings. Entering kindergarten, he was non-verbal and one of the 5.5 million ESL students in the United States. His parents sought assistance from the local school district. A tutor came to his home, and he attended speech therapy regularly.
"We knew he was bright. He just needed to be able to show the school," said his mother, Ana.
She was right. With diligence, Antonio caught on quickly and excelled in school. In high school, his parents always promoted focusing on his grades. While they would do everything possible to help him, Antonio had to earn his way to a college education scholastically.
Antonio found a mentor in his broadcast journalism teacher, James Longoria, a successful broadcast journalist and a UIW alumnus who encouraged him to explore UIW. With exemplary academics, community service, and scholarship support, he joined the Cardinal family in the Fall of 2019.
He embraced his university experience, joined student organizations, and excelled academically. All was going well until COVID-19 changed everything.
One year after his father passed away, his mother tested positive for COVID-19. Soon after, the whole family tested positive. Still, Antonio knew he needed to continue his education.
"I continued my studies because I did not want to fall behind. It was stressful. I had to take care of myself, my mother, my brother, and my sister," said Antonio.
He produced a 60-second PSA titled "Self-Isolation," based on his COVID-19 experience, the PSA earned UIW its first Crystal Pillar award from the Lone Star Emmy Educational Foundation. In 2021, Antonio earned two additional Crystal Pillar awards for College – Animation/Graphics/Special Effects, and College – Operations Director.
Now in his junior year, Antonio has an impressive portfolio of activities and awards. He is in his second-year as the UIWtv operations director, vice president for the Alpha Phi Omega-Alpha Alpha Rho Chapter, and a mentor in the UIW TriO program. He has received the UIW Monahan Media Studies Award for Media Production, and UIWtv was awarded Best Overall Organization under his leadership.
Thanks to you, UIW is part of Antonio's journey! If you would like to make a difference in the life of a student, please visit UIW's Giving site.