UIW Hosts Commissioning Ceremony for Graduates
December 23, 2021
Three ROTC Cadets take Oath as Second Lieutenants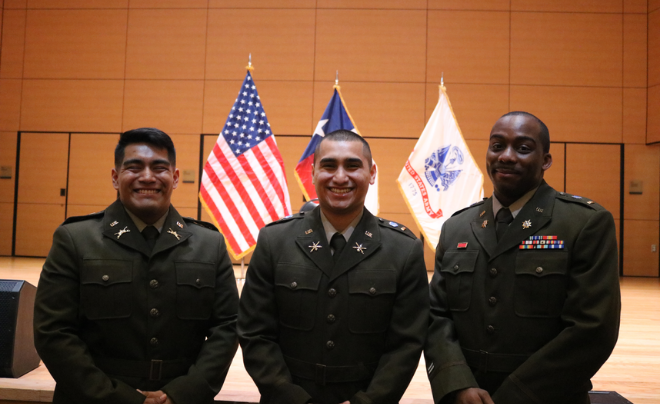 San Antonio – The University of the Incarnate Word (UIW) hosted a Commissioning Ceremony for three Reserve Officer Training Corps (ROTC) cadets on Friday, December 17, 2021. Cadets Ramon Aguilar, Miguel Alejandro Trevino and Ronnie Woods were commissioned as Second Lieutenants in the U.S. Army. The three soldiers graduated from UIW and St. Mary's University.
"Today, we mark an amazing milestone for our soon-to-be lieutenants," said Dr. Thomas M. Evans, president of UIW, during the ceremony. "This moment comes at the end of a long journey that spans years, that required hard work, that asked for unwavering dedication and tested their mettle. Despite every challenge – despite a global pandemic – these three graduates harnessed their strength and endurance to go the distance."
During the ceremony, the newly commissioned officers were addressed by U.S. Army Lt. Col. Retired, David Guarriello who stressed the importance of staying fit, building good relationships and always using your power for good.
2nd Lt. Ramon Aguilar, a graduate of St. Mary's University, is headed to the Armor Branch of the U.S. Army. 2nd Lt. Ronnie Woods, also a St. Mary's graduate, will serve in Military Intelligence and 2nd Lt. Miguel Alejandro Trevino, a UIW graduate, will now serve in the Air Defense Artillery Branch.
Formally dedicated on March 20, 1932, the Rattler Battalion Corps of Cadets has produced 1,717 commissioned officers from the host institution at St. Mary's University, the partner programs at University of the Incarnate Word, the affiliate programs at Trinity University, Our Lady of the Lake University, and previous affiliate programs at Texas A&M University - San Antonio and the University of Texas – San Antonio. After the ceremony, the Rattler Battalion will have commissioned 1,720 Second Lieutenants.