UIW Announces New Scholarships at Incarnate Word H.S. and St. Anthony Catholic H.S.
December 17, 2021
Select Students Could Receive $100,000 in Scholarship Funds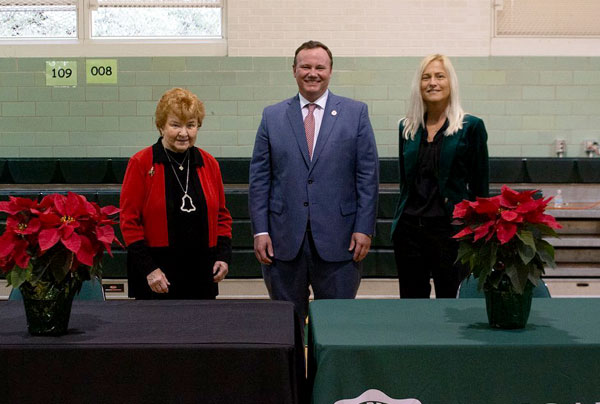 The University of the Incarnate Word (UIW) is proud to announce that it has entered into new agreements with Incarnate Word High School (IWHS) and St. Anthony Catholic High School (SACHS) to offer new scholarships to students from each school. Under the Memorandums of Understanding, UIW will provide three academic, merit-based scholarships of $25,000 per year for four years to IWHS and SACHS graduating seniors who are in the top 10 percent of their graduating class.
"Our approach to higher education is transformational and we are pleased to create new pathways to UIW for these exceptional students," says Dr. Thomas M. Evans, president of UIW.
Evans joined the principals of IWHS and SACHS and shared the news during two special events that gathered the students at their respective high schools.
"UIW is an institution that is very much a part of Incarnate Word High School's past, present and future," says Dr. Anna Downey, principal of IWHS. "The opportunity Dr. Evans has presented to our students and employees shows the commitment the university has to serve the sister ministries of the CCVI's. We are forever grateful for the continued trailblazing efforts of the CCVI's to provide area students and staff with outstanding post-secondary learning experiences."
"We are excited to further the partnership and opportunities presented from UIW that engages a commitment to our Yellow Jacket students' college-bound success," says Dr. Kristina Vidaurri, principal of SACHS. "UIW is always a top choice for our students and providing these scholarships will only enhance the strong pipeline to UIW. We are thankful to be a part of the CCVI Ministry and UIW and all those who have made this historic commitment to St. Anthony Catholic High School."
In addition, UIW has reached a similar scholarship agreement with Incarnate Word Academy in St. Louis, Missouri, which is a sponsored ministries of the Sisters of Charity of the Incarnate Word.