UIW Alumnus Presents to UN
December 3, 2021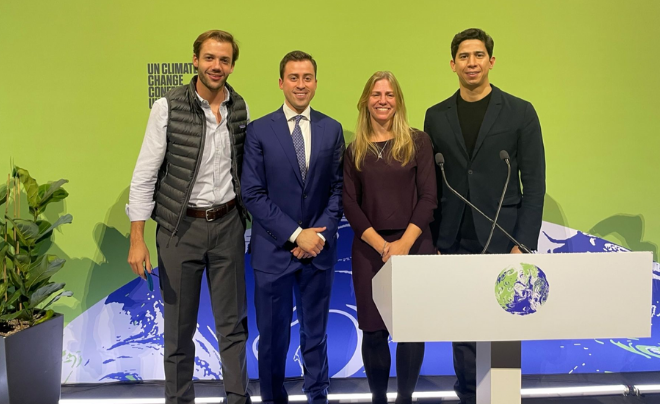 Eduardo Bravo, a 2014 graduate from the H-E-B School of Business and Administration and the co-founder/CFO of Irys, participated in the Tech For Our Planet event as part of the United Nation's Climate Change Conference of the Parties (COP26) event in Glasgow, Scotland this November.
"Eduardo was a wonderful student to have in my classes because he was already entrepreneurial-inclined coming into the class, having already started a small business, and was looking to utilize his degree to make the world a better place for other people," said Dr. David Vequist, a professor in the Management department. "In addition, I loved the fact that he has helped future generations of H-E-B School of Business graduates by collaborating with us and allowing business students to work on his companies in our client-based experiential consulting Capstone class. He exemplifies so many of the qualities you would want in a UIW alumnus."
Startups from around the world applied to Tech For Our Planet, a unique event at COP26. For the event, Irys, the only American and Latinx startup selected to participate, was tasked with using a pilot project to demonstrate how digital and data solutions are essential to supporting the global climate effort.
Bravo co-created Irys, an app that allows design, engineering and construction firms to communicate, get feedback and manage projects all in one easy space. The app allows citizens to flag issues they see in their city, and those notices are sent to the proper city maintenance organization. This helps encourage urban infrastructure improvements.
The company conducted a three-month pilot project with Arcadis, a sustainable design, engineering consulting group, and sought to identify areas that are most impacted by climate change, such as erosion, flooding, future sea level rise, wildfires and more.
Bravo earned his degree in International Business. He was a founding member of the UIW Triathlon Club, a member of the UIW Business Club and was on the Dean's List prior to graduating cum laude.