Students Enjoy President's Cardinal Holiday Celebration
December 10, 2021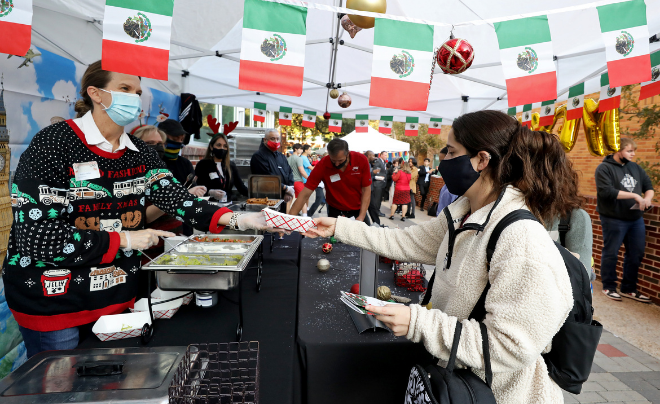 More than 500 students at the University of the Incarnate Word participated in an end-of-year tradition on Tuesday, taking a break from studying for finals to enjoy the President's Cardinal Holiday Celebration.
The celebration, hosted by UIW President Dr. Thomas M. Evans, is held each year during finals week. It provides students with food, fun, fellowship and a chance to take a breath as they prepare to end the semester.
"In the bustle of one of the busiest times of the year, it was a joy to provide our hard-working students with a moment of celebration and appreciation for all that they do and everything they bring to UIW," said Dr. Evans. "I hope our festivities helped our students finish their semester on a positive and uplifting note."
"It was wonderful to see students engaging with faculty and staff throughout the evening as we all celebrated a great fall semester back together on campus," said Dr. Chis Summerlin, dean of Campus Life. "You could feel the excitement and Cardinal spirit as students, faculty, and staff came together to enjoy international food and desserts while taking a much-needed break between finals."
With the COVID-19 pandemic, this is the first time since Fall 2019 that UIW has been able to host the celebration, a fact that was not lost on Student Government Association President Evalinda Davila.
"My favorite part is seeing all of the students on campus," said Davila. "I love seeing the faculty, staff and administration mingling and conversing with all the students, asking them how their semester is going, asking them how they are doing, and really just everyone taking the time out to serve the students. That's what UIW is all about."
This year's theme had an international flair, with students having the opportunity to take a trip around the globe as they enjoyed appetizers and desserts from various countries and regions around the world. With faculty and staff volunteers serving, students tasted cuisines from Germany, Mexico, Italy, East Asia and South Asia. To cap the evening, everyone was invited to the Friendship Garden for desserts and karaoke.
When students arrived, they checked in and received a passport card, complete with facts about the various stations. For example, students learned that "in South India, one widespread Christmas tradition is to put a burning earthen lamp on their roofs. This practice symbolizes that Jesus is the light of the world." They also learned that "most Italians give and receive gifts on the 12th day of Christmas, January 6th. An old woman known as La Befana is said to bring gifts in the middle of the night to put in children's stockings."
"You couldn't help but to smile yourself through seeing our Cardinals laughing, smiling, and engaging with one another while enjoying foods from around the world," added Summerlin. "The positive vibes, which could be felt throughout the evening, were invigorating."
As Davila walked around, taking in the view of everyone having fun, she acknowledged how important a celebration like this can be for students. She says that, although some students may feel like no one knows who they are, that is not the case at UIW.
"I appreciate this from faculty, staff, administration and Dr. Evans because it relays the message back to the student that they are important, and that it is all about the student," said Davila. "This just solidifies the relationship that UIW has with the students, so it's an important tradition."