Giving Back: Lindsay Papper
December 1, 2021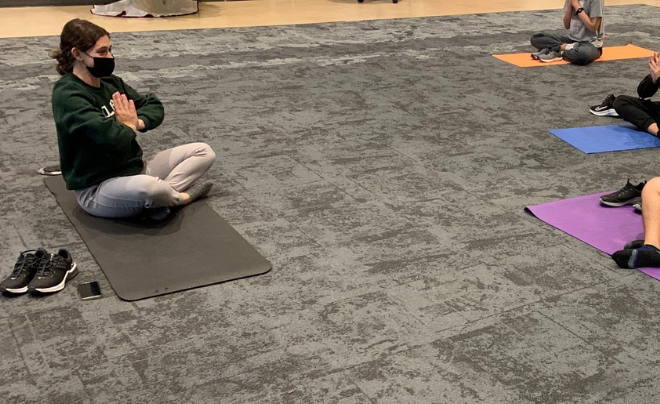 Service has always been part of Lindsay Papper's life. Whether she is working on a fundraising initiative or just checking in on someone, helping others is part of who she is.
Although Papper initially selected UIW because it offered her sport, artistic swimming, she has found that the University's core values align with her own personal ideals.
"Service wasn't the largest contributing factor when I chose UIW," said the senior Marketing and Communications major. "But I can say that since my time at UIW, the service pillar has grown on me tremendously, and it is what I love most about this University."
Since she arrived on campus, Papper has participated in numerous service events. This semester alone, she was able to support both her fellow student-athletes and the community. She has helped at soccer games and football games, and has contributed to the planning and implementation of some key Student-Athlete Advisory Committee initiatives, such as the Word Wednesday gratitude booth, where students expressed what they were grateful for.
But out of all the opportunities, one resonated with her on a deeper level this semester.
"The most meaningful service opportunity I had this semester was helping run the activity portion the Health and Wellness Fair," said Papper. "We had special education adults come to campus and we taught them warm-up exercises, strength exercises, and abdominal workouts. We also gave them a guided tour around campus, followed by some relaxing yoga. It was a great experience to have and be part of."
Papper also remembers participating in an Elf Louise project, where she worked with her teammates to deliver Christmas gifts to families in need during the holiday season.
"That was my favorite service project that I have participated in," added Papper. "It was a great experience and made me realize how fortunate a lot of us are, and that just a simple act of kindness can go a long way."
Those simple acts of kindness are crucial in Papper's life, and she plans to keep helping others for a long time.
"There is a sense of satisfaction and happiness when you complete an act of service and it's this feeling that keeps me going. I don't plan on service leaving my life anytime soon."