Fashion Students Display Garments at Rolling Oaks Mall
December 3, 2021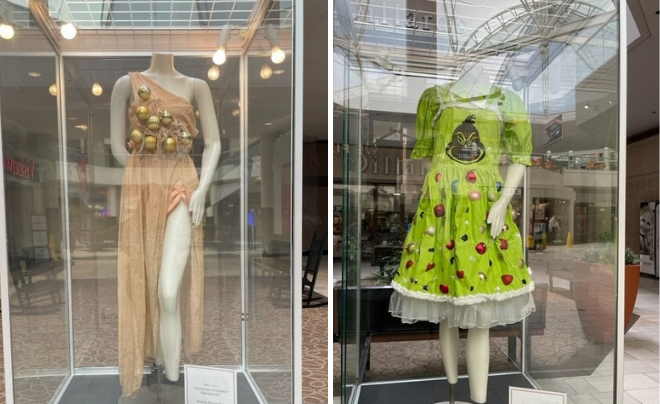 Three freshmen in the Orientation to Fashion Management class at UIW designed unique dresses that are now on display at the Rolling Oaks Mall. An elegant gold gown was created by Kieann Hernandez and Danielle Tovar, while a festive green Grinch dress was made by Daniela Mejia.
The assignment, which was optional for those in the class, was to create a unique garment with used Christmas ornaments. Projects were submitted in mid-November, allowing ample staging time prior to Santa's mall debut.
"The young ladies created beautiful garments by using what they had instead of buying anything new," said Melinda K. Adams, PhD, professor of Fashion Management. "I am very proud of the garments they were able to create."
Hernandez and Tovar used an old Halloween costume and gold Christmas ornaments to create their one-shoulder dress, while Mejia screen-printed an image of the Grinch and added broken ornaments to complete the ensemble, using items she already had around the house.
Both garments are on display at the Rolling Oaks Mall and will be there for the remainder of the holiday season.
The Bachelor of Science in Fashion Management program at the School of Media and Design prepares students for careers in the design and business sides of the fashion industry. The program's emphasis on technology, practical technique, business insight, artistry and scholarship produces well-rounded graduates with extensive insights into fashion. Concentrations in Merchandising and Apparel Production and Design offer students an opportunity to specialize in one of these two critical areas, giving them all the tools they need to pursue success in dozens of career paths.