UIW Signs MOU with Incarnate Word Academy
November 12, 2021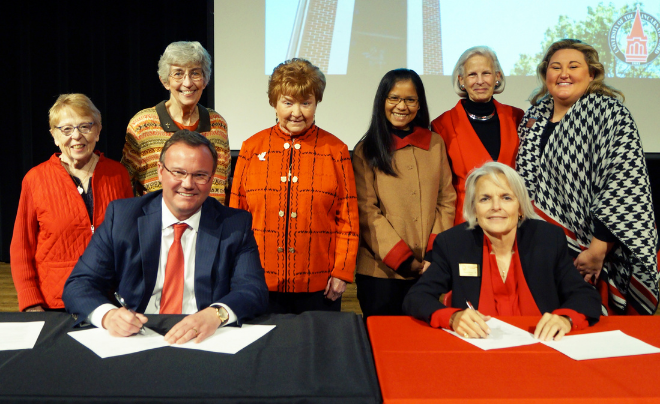 Scholarships to UIW change lives, and last week, University of the Incarnate Word President Thomas M. Evans, PhD had the opportunity to announce three. Evans traveled to St. Louis, Missouri, for a visit with the students and staff of Incarnate Word Academy (IWA) a private, Catholic high school that is also a sponsored ministry of the Sisters of Charity of the Incarnate Word. Evans and IWA President Sharon Gerken, signed memorandums of understanding aimed at creating stronger pathways to higher education for IWA students. The first was an agreement establishing three academic, merit-based scholarships for students at IWA. Each scholarship is for $25,000 per year for four years to IWA graduating seniors who are in the top 10 percent of their class.
"This is a phenomenal scholarship and opportunity," said Evans. "We are so pleased to open up this new pathway to higher education at UIW for the exceptional students of our sister ministry, Incarnate Word Academy, and to support students to continue their education and formation in the charism of the Sisters of Charity of the Incarnate Word."
Sr. Kathleen Coughlin, CCVI and an alumna of both IWA and UIW, accompanied Evans on the trip. Sr. Helena Monahan, CCVI '60, Sr. Eileen O'Keeffe, CCVI '59 (IWA Director of Mission Integration,) Sr. Katty Huanuco, CCVI, Catherine Dulle '69 (UIW Board member) also attended the ceremony.
Founded in 1932 by the Congregation of the Sisters of Charity of the Incarnate Word, IWA's mission is to foster the spiritual, intellectual, social, and personal growth of each student. Incarnate Word Academy provides an excellent college preparatory academic foundation while nurturing the spiritual growth of every student who attends. Known as "Women of the Word," students are encouraged to seek human dignity in themselves and others. Through high academic standards and personal attention, our students become self-assured, knowledgeable women who go on to make positive impacts on their community.
Additionally, UIW established a Tuition Discount Program for IWA employees and their dependents.
UIW is committed to developing pathways that lead students to the transformational education that the University provides and to reaching their unique academic goals. Creating opportunities with other CCVI-sponsored ministries is also among UIW's eight strategic priorities.
"As much as we have grown, our heritage is central to what we do, just as it is here at Incarnate Word Academy," said Evans. "To honor that, we are called to open the doors to a UIW education for as many students as possible."