UIW Professor Awarded for Efforts in Public Health
November 4, 2021
Dr. Linda Hook Receives Prestigious Award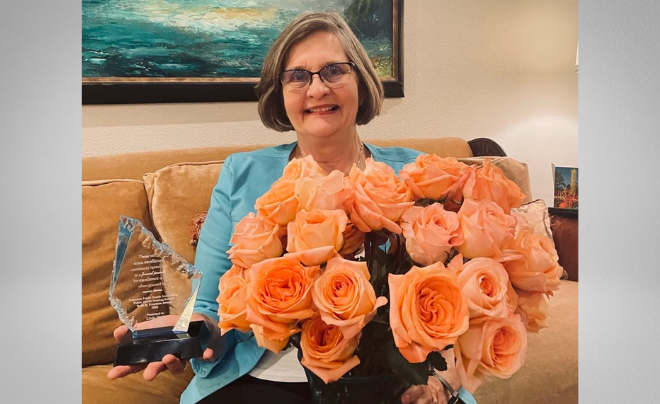 San Antonio – The University of the Incarnate Word is proud to announce that Dr. Linda Hook, assistant professor in the Ila Faye Miller School of Nursing & Health Professions, has been named the winner of the 2021 Ruth B. Freeman Award for teaching and service in public health. The Freeman Award is a national honor that recognizes an individual who has had a distinguished career in public health administration, education, policy, practice or research.
Hook has practiced as a public health nurse in San Antonio since 1994. She worked for and then directed the Public Health Nursing Department at the San Antonio Metropolitan Health District. She has been in academia teaching Community Health Nursing since 2008. Hook was nominated for the award by four of her colleagues including Dr. Holly Cassells, dean of the Ila Faye Miller School of Nursing & Health Professions.
"She never misses an opportunity to show students how to bring a community together," wrote the group in her nomination form. "How to engage with local city councilpersons and legislators, to keep the key players informed and in the loop. Her vision is far-reaching and ambitious; she has a can-do attitude, not daunted by bureaucratic obstacles. In her words, 'every time you see someone, no matter their education level, culture, age, etc., you don't miss the opportunity to engage.' Service, practice and education are all integrated in the nursing that Dr. Hook envisions."
"Most significantly, I was honored that my public health nursing friends took the time to nominate me for the award," says Hook. "When I became a public health nurse in 1994, I thought I knew nursing as a discipline, but my mentors made me realize that I still had lots to learn. I stand in awe of all of them. From my mother, Genevieve Tart, my public health nursing mentor, Patty Villarreal, my physician mentor, Dr. Fernando Guerra, to my UIW community health professors, Dr. Sandra Strickland, Dr. Mary Elaine Jones, Dr. Holly Cassells and others."
Hook's efforts in the public health sector are extensive. They include an array of initiatives from establishing a program to provide mammograms for African American women in San Antonio's Eastside Promise Zone, to contracting with the city for a lead screening program for Head Start pre-school children, to developing a guardianship visitation program whereby nursing students made court-appointed visits to vulnerable clients of Catholic Charities and much more. Most recently, Hook has led an extensive outreach effort with the nursing school's nurse-managed Cardinal Wellness Clinic to offer opportunities for students to give COVID-19 vaccinations to underserved populations on the East and South sides of San Antonio. And while she credits many mentors for her success in public health, Hook praised one in particular in her acceptance speech for the award.
"My mom was a public health nurse. In 1966, she was one of the first Title 1 – mother/baby home visit nurses in a small town in West Texas," says Hook. "When I was about 20 years into my career, I told my mom that it was time for a change. She told me, 'Go check out public health nursing. They need you and you need them.' So, I did."