UIW Honors Military for Veterans Day
November 12, 2021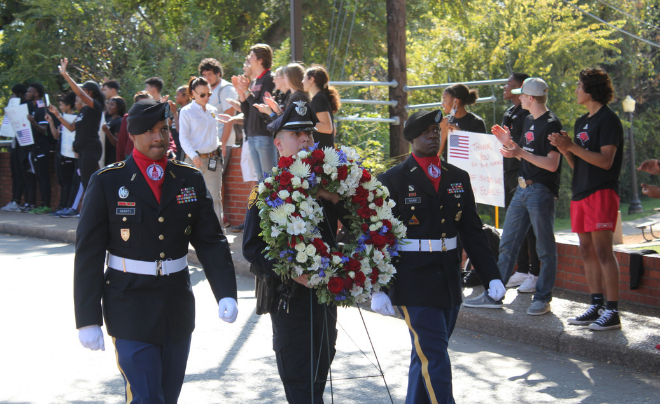 UIW, which strives to be a premiere provider of educational service to the men and women of the military and to veterans, celebrated Veterans Day with several events throughout the week, including the Military Appreciation Football Game, the annual Veterans Day Ceremony and a special Veterans Day Parade.
"It is always an honor to recognize military veterans for their service," said Jonathan Lovejoy, UIW senior director for Military and Veterans Affairs. "UIW has a long history of supporting and serving the military. UIW had three amazing events in one week! The entire UIW community came together to pay tribute to the service of the military, veterans and their families. UIW is a bright star in Military City U.S.A."
The week opened with UIW football's Military Appreciation Game on Nov. 6. Prior to the game, a full-field American flag was held by over 120 JROTC cadets from Alamo Heights, Churchill, MacArthur, Roosevelt, and Sam Houston high schools and 40 Army ROTC cadets from UIW and St. Mary's University. At halftime, more than 80 military enlistees from the Army, Navy, Air Force, Marines, and Texas Army National Guard were honored and sworn in on the field by Lieutenant Colonel Adriana Ramirez-Scott, Commander U.S. Army Recruiting Battalion San Antonio.
On Veterans Day, Nov. 11, UIW hosted the annual Veterans Day Ceremony. This celebration honored all veterans, including UIW's student, faculty and staff members who have served in the military. Bishop Trevor Alexander, UIW Protestant Chaplain, and Dr. Glenn James, Vice Provost, led a ceremony that included a welcome from UIW President Dr. Thomas M. Evans, PhD, a wreath laying by UIW's Army ROTC cadets, a flag folding ceremony led by Dr. Kevin LaFrance, a recognition ceremony that honored all branches of the military, and words by UIW student veteran Darnell Thomas, U.S. Army (retired). Watch the ceremony below.
On Friday, UIW rallied together to honor the military at the annual UIW Veterans Day Parade. Organized and led by UIW veteran and student leader Phillip Rangel and his wife Sharon, the parade included the Fort Sam Houston Color Guard, parade grand marshal Dr. Kathi Light, provost emeritus and Army veteran, a vintage Army Jeep driven by Army veteran Derek Stewart, UIW Cheer, UIW Student Veterans of America, students from Japhet Academy, UIW faculty veterans led by Dr. Lynn Downs, the VFW, UIW School of Professional Studies, POE Middle School, South San Antonio High School JROTC, and over 25 vehicles and other marching groups.
The San Antonio and UIW community, along with the UIW Marching Cardinals, honored the group. The UIW Athletics Department also lined the parade route and paid tribute to UIW's and San Antonio's veterans.
"This year's events surpassed all expectations," added Lovejoy. "UIW paid tribute to our nation's heroes and honored them today. We are Cardinal Strong!"