UIW Theatre Presents Live Production of Little Women
November 18, 2021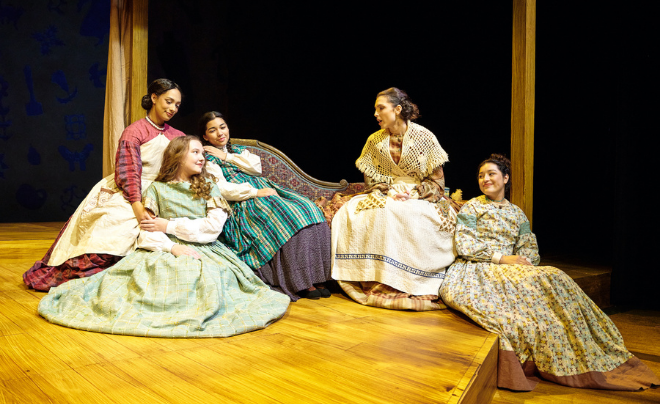 Students from the UIW Department of Theatre Arts presented live performances of Little Women by Louisa May Alcott (adapted by Kevin M. Cunningham) from Nov. 12-14 and again from Nov. 17-19 in the Elizabeth Huth Coates Theatre.
"Little Women has been one of the best experiences I've had as an actor," said senior Theatre Arts major Audria Nuncio, who played Meg March in the production. "I have enjoyed the entire process from start to finish. After 18+ months of not acting at all, to performing six times with an audience, has been surreal. I forgot what it felt like to hear audience reactions and talk with audience members after the show. It reminds all the performers what theatre is all about: storytelling."
"I have absolutely adored this entire experience of performing in Little Women," added freshman Theatre Arts major Lili Sanchez, who portrayed Beth March. "It's been such a meaningful time to be able to tell such a timeless story with amazing people. Everyone has been so hardworking, and it's been lovely to perform live with in-person audiences. I'm so thankful we get to do this!"
Little Women is the second performance of the 2021-2022 season for UIW. A beloved classic, both historically and personally to the Theatre Arts faculty, the department selected it knowing that because of its ability to resonate with audiences, it would be a beautiful show to welcome back audiences after a year-long hiatus from in-person performances.
"We wanted a play with strong name recognition that would draw large audiences and help us rebuild our audience base," said Dr. David McTier, chair of the Department of Theatre Arts. "The play also is a good lead into the holidays: we close the day before Light the Way."
"We felt our Theatre department had the performers and space that would work well with the production," said junior Olivia Perry, a student representative and member of the play selection committee. "We also felt that it would be wonderful and heart-warming to have a production that could bring in the Christmas spirit in a different way."
The community showed its enthusiasm to have live productions again, with opening night selling out of available seats.
"The first weekend of performances was a great success, with friends, family, UIW faculty and students coming together to support live theatre on the UIW campus," said Brooke Arnold, box office manager. "It was great to see familiar faces together again and wonderful for the cast to have an audience!"
The cast and crew have enjoyed being together and have worked tirelessly to produce an event that everyone can be proud of, from designing and building the set to rehearsing. They were proud to share the beauty of theatre with the public.
"We love theatre because we get to be creative and expressive with our craft, and after being closed to the public due to the pandemic, we are overjoyed to share that craft again," said senior Chloe Hipolito-Uribe, marketing supervisor.