UIW Celebrates International Education Week
November 18, 2021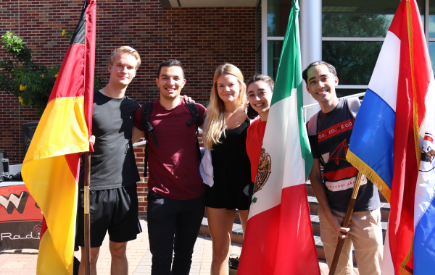 UIW celebrated International Education Week (IEW) from Nov. 15-19, an initiative that allows institutions around the country to engage with international peers, enhancing self-awareness and understanding of diverse perspectives.
"Ours is a global community of students and employees from many different nations, backgrounds and cultures," said UIW President Thomas M. Evans, PhD. "International Education Week celebrates the invaluable benefits of intercultural exchange and learning that comes with a community like ours."
Evans encouraged the UIW community to learn more about the many opportunities for international travel and cross-border learning that UIW offers students and faculty. Programs such as study abroad and exchanges with our sister schools in Mexico and France support UIW's Mission to prepare concerned and enlightened citizens in the global community. They open up dialogue and welcome respectful interactions between people of diverse backgrounds.
"With our global Mission at UIW, International Education Week encourages us to celebrate diversity and promote opportunities of international education and exchanges worldwide," said Jose Martinez, director of International Student and Scholar Services. "We are happy to witness that UIW is committed to enhancing diversity and welcoming international students, faculty and researchers as they contribute academic vibrancy."
"We are educating students with skills that will help them their whole life, students who have a different perspective, students who know more about other countries and traditions and are able to interact and work with people from different cultures," added Marcos Fragoso, vice president for International Affairs. "Embracing our international community gives us the opportunity to understand others, understand ourselves, appreciate what we have at home, and agree that we live in an interconnected world."
Over the years, UIW's IEW audience has grown as the community has embraced presentations, performances and vendors that make the event a success. This year, UIW students, faculty and staff joined the worldwide occasion of international education and exchange through food, culture, music and art with more than 15 events during the week.
The week began with the Parade of Nations and included opening remarks from Fragoso. The International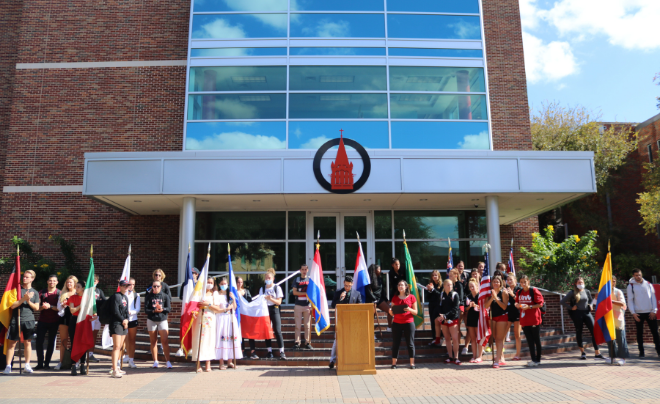 Affairs office also added department awards, recognizing offices that provide excellent service to UIW's international student community.
"This year, we expanded the opening ceremony to include a visual element by adding the Parade of Nations, in which approximately 50 students participated and celebrated with their home country flag," said Martinez. "We feel all components that were included made this year's opening celebration a huge success and we hope this enriches the campus environment for future IEW weeks."
IEW cultural events help UIW's international students, scholars and educators feel welcomed, and it encourages the UIW community to engage with its peers. U.S. students have the opportunity to reflect on the diversity of UIW, which may inspire them to pursue some of the many overseas study abroad or international experiences UIW provides.
"Embracing our international community is not just doing it here on campus, it is also promoting and encouraging students to study abroad or to participate in faculty led trips to other countries," said Fragoso. "It's offering binational courses, virtual internships, virtual sessions and all possible experiences that give our students a personal growth and better understanding of the world."
UIW celebrates and supports its international students throughout the entire year, recognizing that a more diverse UIW community benefits faculty, staff and students alike. The International Student Office provides services, support and information to help the students get the most out of their UIW experience.
"International students provide significant benefits as they deepen the classroom by sharing unique perspectives and expression of ideas to U.S. students," added Martinez. "Engaging our international community creates democratic values and active citizenship by building alliances with citizens of other countries.
"We encourage international and exchange students to get involved in the Cardinal community and to explore the rich culture activities on-campus and in the San Antonio area."
Many people participated in the planning and organization of the International Education Week activities.
"IEW Committee leads include Sheena Connell, Brooke Paynter, Lopita Nath and Shannon Twumasi with an additional 10 committed volunteers," said Martinez. "We want to also thank UIW Athletics, Mission and Ministry and Special Events for their ongoing commitment and support."