UIWPD, Valvoline Hold Thanksgiving Car Care Clinic
November 18, 2021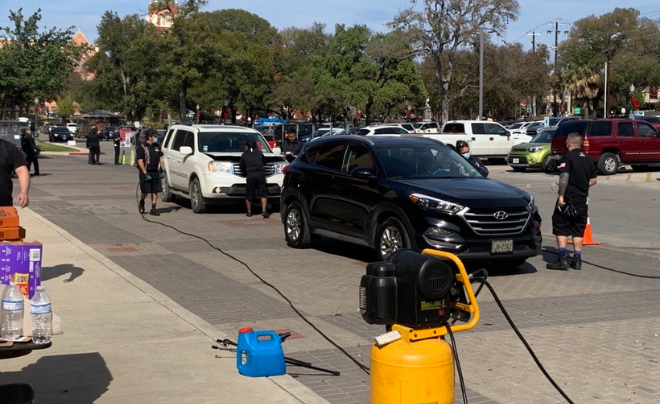 The UIW Police Department (UIWPD), in partnership with Valvoline, held the Thanksgiving Car Care Clinic on Nov. 17 and 18 at the UIW Broadway campus. Students and employees lined up in front of the Luella Bennack Music Center, where they received free pizza to enjoy as their vehicles were inspected.
During the clinic, Valvoline performed safety checks such as testing fluid levels, tire pressure and windshield wiper blades. Approximately 300 students and staff enjoyed the benefits of having their vehicles checked before embarking on their Thanksgiving travel. Those needing more extensive work received discounts and coupons for use at local Valvoline locations.
"The idea started in 2018, and this is the third year, since 2020 was scrapped due to COVID-19," said Corporal John Catts of the UIW Police Department. "It was an idea to embrace the community policing concept for the University and to reach out to the community and offer a beneficial service."
In anticipation of many UIW community members and student traveling for the upcoming holiday, UIWPD hosts the annual Thanksgiving Car Care Clinic the week before Thanksgiving break.
"Thank you for this service, from a very grateful parent," said one UIW mom on the University's Instagram account.
"Things like this really make me feel like the University cares about its students," said a UIW student at the car care clinic. "Now I know I can feel safe driving home to see my family over the break."