Service Spotlight: U.S. Army Veteran Christopher Lee Marmolejo
November 15, 2021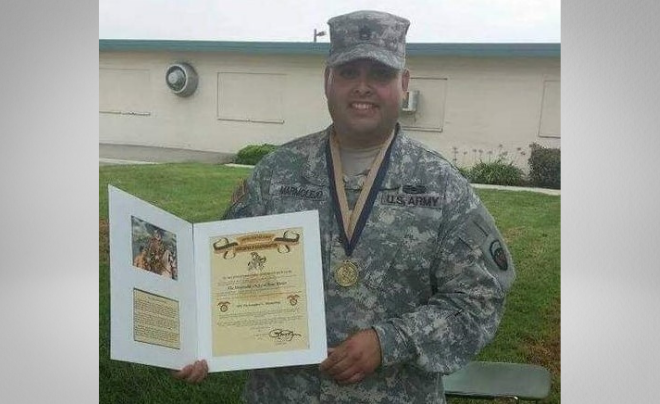 "Service is important to me because it is an opportunity to put the needs of others before my own."
Christopher Lee Marmolejo, a Master of Business Administration student, has volunteered at eight events this semester already, including Let's Taco 'Bout Mental Health, UIW's First Responders Appreciation and Military Appreciation Football Games, Trunk-or-Treat, UIW's Veterans Day Ceremony and more.
"The Veterans Day Ceremony event was near and dear to my heart," said Marmolejo. "As a veteran myself, it always feels great to give back to those who have sacrificed so much."
When selecting a school to attend, he did not realize that there was such a heavy emphasis on service at UIW. After becoming engaged in campus life when he arrived, he was thrilled to learn that service plays a vital role in the lives of UIW students.
"UIW partners with the students, the community and with the city to provide many opportunities to give back," said Marmolejo. "Finding out 'UIW does this, UIW does that,' made me feel like 'yep, I belong here!' This is the best contributing factor, by far, that I promote when I speak about UIW."
A member of the Strategic Priority Military and Veterans Committee, Marmolejo uses his military background and knowledge to help enable the University's vision of making UIW the premier school for military-affiliated personnel.
Marmolejo loves service, but he has a particular affinity for helping veterans. His favorite project was not on the UIW campus or even in the state of Texas. He spent over 300 hours volunteering on the streets of Los Angeles advocating to end homelessness among U.S. veterans.
"Two words that should never go together: homeless and veteran," said Marmolejo. "I worked with a non-profit called the 'Vet Hunters Project' to conduct search and rescue missions, getting homeless veterans off the streets and into a home. While in the veteran home, they would receive medical and dental care, job training and then job placement. These actions led me to receive a Congressional Recognition from the State of California and the Honorable Order of Saint Martin, which is awarded to those who have demonstrated the highest standards of integrity and moral character."
Marmolejo plans to continue to serve and be a voice for those without one in the short term, but he has big plans for the future.
"I plan to start my own non-profit organization called ETHOS (Enhancing the Heroes of Our Society), using a holistic approach to whole health through Mind, Body, and Spirit, to benefit our veterans and first responders."
Through UIW's emphasis on service, Marmolejo has continued to learn the importance of focusing on the needs of others.
"Selfless service opens your eyes and warms your heart," ended Marmolejo.