HEBSBA and Nursing Partner to Host Opportunity Recognition Workshop
November 3, 2021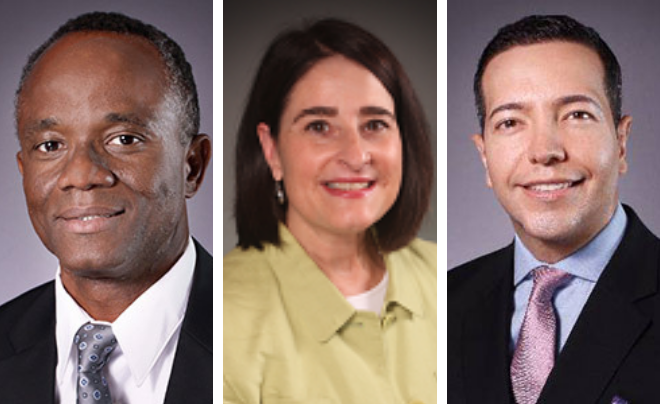 Dr. Adesegun Oyedele, coordinator of International Business in the H-E-B School of Business and Administration (HEBSBA), partnered with professor Dr. Karen Weis, PhD, RNC-OB, FAAN, and assistant professor Julio Lujano, DNP, APRN, FNP-BC, ENP-C, both from the Ila Faye Miller School of Nursing and Health Professions, to co-produce UIW's first Opportunity Recognition Workshop on Nov. 1. This initiative reinforces HEBSBA's commitment to integrating entrepreneurship competencies into its curriculum and fostering opportunity recognition across multiple disciplines in the University.
Forty-eight Level 5 Bachelor of Science in Nursing (BSN) students enrolled in the Community Health Nursing Course, taught by Assistant Professor Dr. Lorena Paul, DNP, MEd, RN-BC, and attended the workshop. The attendees are preparing to graduate in December.
"The goal of the workshop was to introduce the audience to the basic framework of opportunity recognition competencies that can be used for innovation discovery in any industry, including the healthcare sector," said Oyedele. "The workshop presenters shared the fundamentals of process of innovation to improve bedside care and design thinking tools for turning opportunities across the healthcare profession into innovation outcomes. Everyone is capable of learning this unique skillset for application in the professional setting."
While many are familiar with the quote "necessity is the mother of invention," the workshop posited that "innovation is the father of invention." The main topics covered were invention compared to innovation, what is innovation, how innovation occurs and innovation processes in healthcare. The group also discussed design thinking, idea generation approaches, opportunity recognition framework and interprofessional collaboration. Attendees left with new realizations, with one saying, "you don't need to come up with a grand idea to make a big change. Innovation can simply come from a small idea like reorganization of an established process."
The learners were introduced to the fundamentals of opportunity recognition in both clinical and non-clinical settings. Oyedele also led a group exercise aimed at dissecting complex problems in current practice, allowing participants to explore solutions using their newly learned skills. Another student, who has years of experience, noted "we should always have an open mind in regard to innovation, no matter what your status is as a nurse."
Workshops like this are important for San Antonio, said Oyedele, because there is talent that needs to be curated and nurtured to meet industry demand.
"Innovation is a unique language rarely spoken by clinicians whose priority is to care for their patients' needs," said Oyedele. "However, advancements in clinical practice occur frequently and learners should feel empowered to partake in that process."
The collaboration between HEBSBA and nursing was particularly important because UIW students have a growing and healthy appetite for tools that will help them learn the universal language of invention.
"Interdisciplinary collaborative education is in its infancy at UIW," said Oyedele. "Opportunity recognition methodology is a viable avenue to bridge the many different programs across our University. [Through the workshop] we learned that interdisciplinary collaboration is important for creating unique value for students, faculty, administrators, and the community, and it is essential for unlocking innovation and opportunities in education, particularly healthcare education."