Family and a Military Community of Support
November 9, 2021
Family is very important to U.S. Army veteran Michael Lesley. The military and UIW have both helped him provide for his wife and son.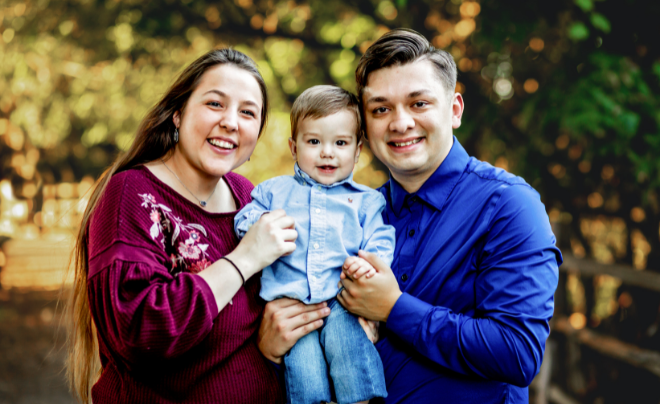 "I have seen UIW support the members of the military community. I hope I can say I've helped them a lot, too."
Michael Lesley is a U.S. Army veteran, a sophomore Finance major and a student worker in the Military and Veteran Center at UIW. He joined the military in 2015, shortly after he graduated high school, and was active duty for four years. Originally a Vehicle Wheeled Mechanic, an injury forced him to alter his course.
Lesley joined the U.S. Army Band, where he played euphonium, an instrument he calls a "baby tuba." In March 2019, he retired from active duty, but his time with the band had made a big impact, and he joined the Army National Guard.
"I continued to serve even after I was no longer active duty because I loved the experience that I had in the band," said Lesley. "I wanted to develop and continue my passion for playing in the military band and serving the community."
Born and raised in Texas, Lesley was able to stay in the state he loved, even during his time in the military. He was stationed at Fort Hood in Killeen, but when he and his wife, Brittany, moved to San Antonio, they put down roots.
"I really love Texas," said Lesley. "We bought a house in Killeen, and when we moved to San Antonio, we bought a house here, too. It's close to my family, and family is very important for me. My wife and I have a son who is turning one in a couple of weeks, and I want to raise him in the state I grew up in. I plan on staying here for as long as I possibly can."
Family is why Lesley decided to go back to school after his days of active duty were complete. He knew that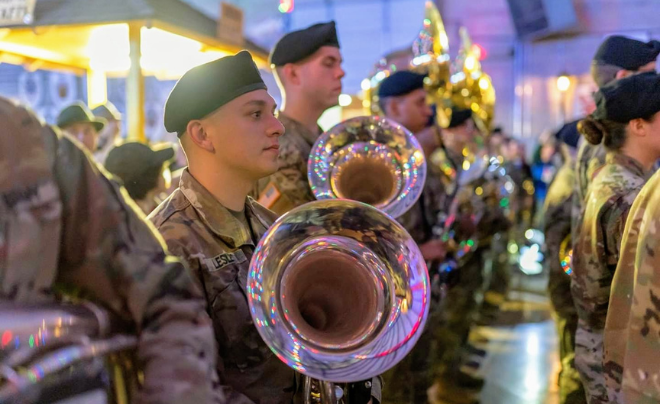 a degree could help bring job security. He started looking for a school after he and his family moved to San Antonio. That's when he found UIW.
"UIW was the perfect fit for me," said Lesley. "With a young son and a wife who works full time, going to school somewhere close to where I live was key. UIW is only 20 minutes from my house, with traffic, and it has free parking for disabled veterans. I'm glad I chose UIW to pursue my degree."
The combined tasks of attending school full time, working as a student worker in the Military and Veteran Center and raising a one-year old are daunting,  but when Lesley feels overwhelmed, he looks to Brittany for inspiration on finding balance.
"A huge part of it is making sure that I'm staying on top of my classes. It has been really hard," said Lesley. "But my wife has been my role model through it all. I don't know how she does everything on a day-to-day basis, I really don't. She works full time, she does a class or two here or there, and she is also in the reserves. I don't know how she has been able to manage. Her time management has been impeccable."
Through learning how to balance his schedule, Lesley has also relied on his teachers, advisors and the Military and Veteran Center (MVC) at UIW for help. The MVC, he says, is very knowledgeable about the process for active duty military members and veterans to attend school and get the most out of their benefits, while the professors understand the hectic schedules and are willing to work with the students to help them succeed in school.
"The Yellow Ribbon Program here is excellent, and everyone in the office is really helpful," said Lesley. "But it isn't just the Military and Veteran Center that supports the military at UIW. The academic advisors here have been really great, too. They set up a plan from A to Z and they ask what we would like to do and guide us on how to get to our goal."
Lesley knows balance can be hard on soldiers, and it can be hard for them to know how to manage their finances in the midst of such busy schedules. That's why he chose Finance as his major. He wants to help other soldiers provide for themselves and their families, too.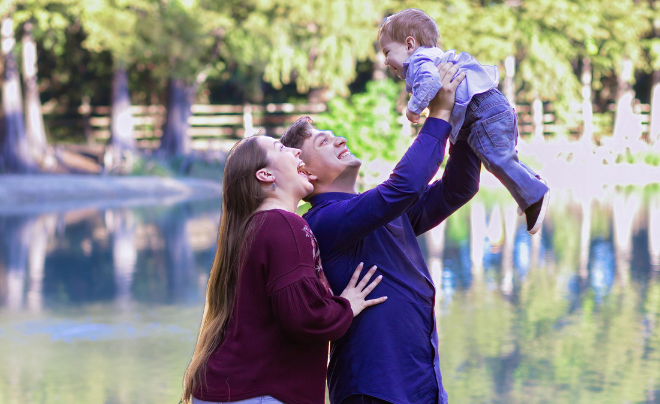 "My end goal is to serve my fellow veterans as a financial advisor," said Lesley. "I would love to help them learn how to manage and use their money in ways that can benefit them and help them meet their financial goals.
"I grew up in a low-income family, but when I joined the Army, I had people who helped me learn how to manage my finances," he explained. "That has given me and my wife the opportunity to change our family tree and provide generational wealth. I would like to give other soldiers that opportunity for their families."