Education, Football, and Something Bigger than Himself
November 4, 2021
Chance Trentman-Rosas chose UIW for the opportunities in education and football, but he soon realized that joining the ROTC and the Texas National Guard would help him leave a greater legacy.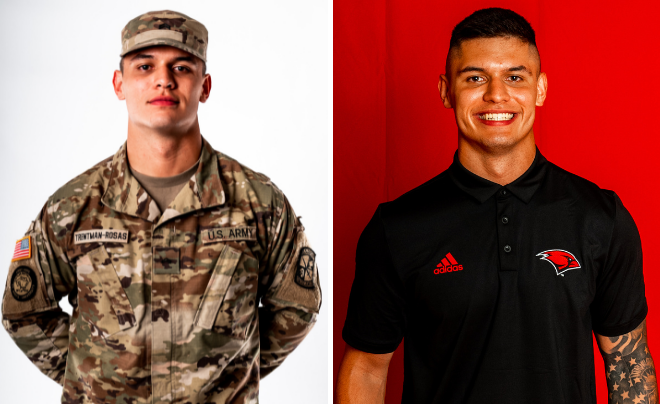 "I joined because I want to make an impact. I wanted to join something that was bigger than myself."
Chance Trentman-Rosas did not choose UIW because of the Reserve Officers Training Corps (ROTC) program it offered. Initially, he loved the education it would provide. When he combined that with the ability to play for the football program, he knew it was the right fit for him.
"I wanted to attend UIW for the opportunities it had," said Trentman-Rosas. "I looked a lot more into it the educational aspect, but I fell in love with both playing football here and the education. The professors are awesome. The coaches are amazing. And I wouldn't want it any other way."
But he soon realized that, although football is "something bigger" than himself, he wanted to go beyond that. He wants to become an officer in the Texas Army National Guard, so in March 2020, Trentman-Rosas joined UIW's ROTC program and became a member of the Texas National Guard. He is on track to be commissioned as a Medical Service Corps Officer when he graduates.
"I want to serve my country, to serve our country, and ultimately be looked up to and leave a legacy behind."
Currently a junior Biology major at the University, Trentman-Rosas is considering becoming a physician's assistant (PA), but UIW's nursing program also intrigues him. He says he is keeping his options open.
"Going the biology route opens me up to a lot of opportunities," said Trentman-Rosas. "If I want to pursue PA school, I can use my biology degree to go that route, but many nursing programs throughout the country will accept my biology degree, like UIW. After my ROTC career, I'm hoping to work in the medical corps field, to further my career.
"Whether I go the doctor route or become a nurse, I want to serve my time helping others in the Army."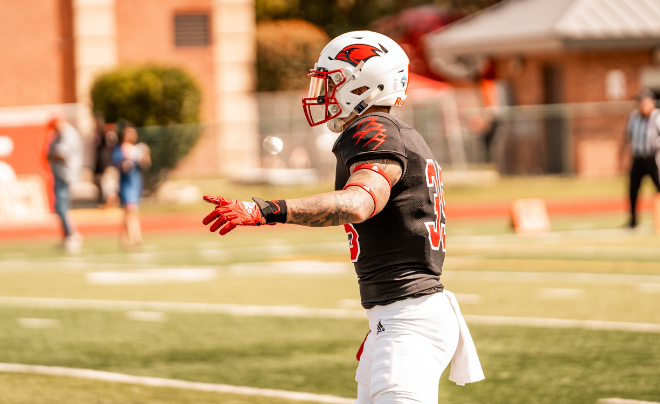 This was not always the path Trentman-Rosas had in mind. Growing up, he wanted to be a coach. He has been around football his entire life, but when he was a senior in high school, an injury opened his eyes to a new world.
"When I broke my leg, I noticed the impact the nurses and the doctors had on me," said Trentman-Rosas. "It felt like it was life changing, because even though they see broken bones and injuries like that every single day, their impact changed my life and I wanted to be just like them. I looked up to them."
Now, Trentman-Rosas stays busy as he pursues his goal of working in the medical field. He starts most weekdays with football practice in the mornings. On Tuesday, Wednesday and Thursday, he attends classes with ROTC in addition to his normal coursework at UIW. Once a month, he attends drill with his Texas National Guard unit.
Through that tremendous work load, he has learned how to manage his time and balance his busy schedule skills that have taught him the value of self-discipline.
"Both the ROTC and the Texas Army National Guard have taught me a lot of structure and they have taught me how to balance things as well," said Trentman-Rosas. "I know if I fall behind, I have to pick myself up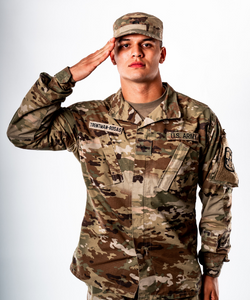 and get back on track. But joining the national guard while also playing football has brought a lot of structure to my life, allowing me to kind of balance things out at a young age."
Trentman-Rosas acknowledges that he could not do this alone. He has the support from his coaches as well as the school itself.
"Coach Morris is awesome. If I need to miss practice, he's very understanding because he knows I'm going to come back the next day and work 10 times harder to make up for what I missed," said Trentman-Rosas. "I feel really well supported by all the professors as well. When I wear my uniform to class, they ask me questions. It's like they have my back, in a way.
"I love the opportunities UIW has given me. I feel the support of UIW as a whole, and it's motivation for me to do better every day."