CCVI, UIW Athletics and SGA Hold Inaugural Blessing of the Athletes
November 12, 2021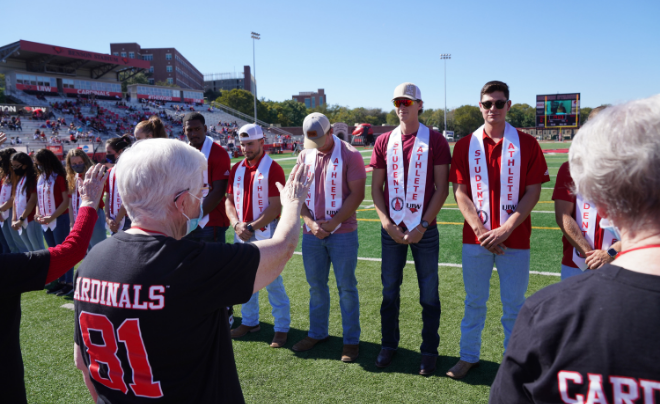 The Sisters of Charity of the Incarnate Word, UIW Athletics and the Student Government Association (SGA) came together for the inaugural Blessing of the Athletes prior to the Oct. 30 football game against Houston Baptist University.
During the event, more than 30 student-athletes were blessed by 30 Sisters of Charity of the Incarnate Word.
"The significance behind the blessings was to connect and build the relationship of the Sisters with the student-athletes," said Sr. Walter Maher, CCVI, vice president of University Mission and Ministry. "It was wonderful seeing how attentive and engaging our students were with the Sisters. They were taking selfies, seeing to their needs and more."
The Blessing of the Athletes was an idea presented to UIW Athletics by the SGA, as the student group wanted to create an opportunity for the Sisters to offer special prayers for senior athletes who are in or preparing for their final seasons on UIW's various athletics teams. After the moving display on Oct. 30, SGA and UIW Athletics intend to continue the new tradition, building a sense of camaraderie amongst the Sisters and student-athletes, while promoting the Mission and Cardinal spirit.
In addition to the Blessing of the Athletes, SGA and Athletics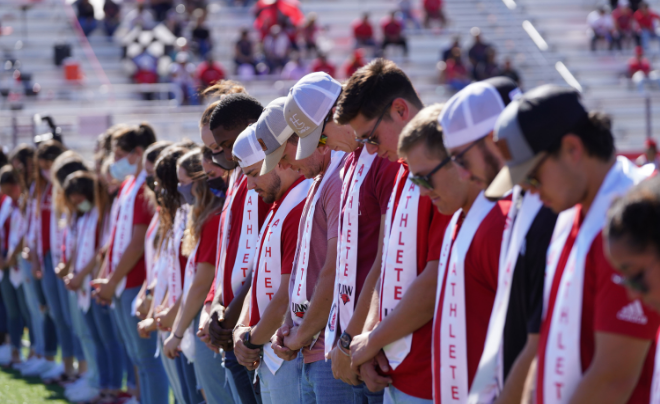 created "football jersey" t-shirts for the Sisters. The shirts have 18 on the front and 81 on the back, a nod to the founding year of the University of the Incarnate Word.
"The blessing was a way to create a new tradition, but also to confirm the unity the students have being a part of the Cardinal family," said Evalinda Davila, SGA president.