Beechner '10, '15 selected to Forbes Next 1000 List
November 16, 2021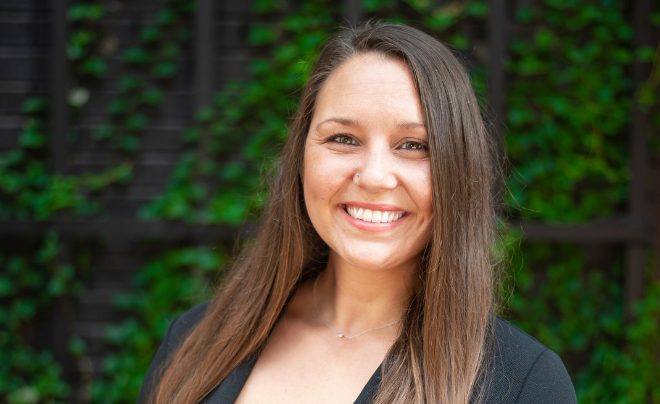 Kim Beechner '10, '15 was selected to the Forbes Next 1000 list for 2021. Beechner is the founder and CEO of Embark Marketing, a Texas-based, digital marketing agency specializing in the food and beverage industry. Beechner founded Embark Marketing in 2010.
"The Forbes Next 1000 award recognizes small businesses owners and entrepreneurs throughout America, and I feel extremely grateful and honored to have been included on the 2021 list," said Beechner. "While it is incredible to be recognized locally, to be recognized on a national level makes me even more proud of what our team at Embark Marketing has accomplished."
Beechner received both her bachelor's and master's degrees from UIW, and her experiences at the University provided knowledge, perspective and skills that have helped her develop and grow Embark Marketing throughout the years.
"The H-E-B School of Business and Administration was a great benefit in undergraduate, helping me to understand how to run and operate a business," said Beechner. "The Department of Communications guided me through the marketing, public relations and creative aspect of a business in my master's, which was beneficial for not only myself, but also Embark Marketing's clients."
When Embark Marketing was in its early stages, Beechner worked with UIW's MBA Capstone class, seeking ways to grow and expand the business. 
"I found that we had plateaued in sales," said Beechner. "We were providing marketing services to a variety of industries and I was unable to grow the company because of all the research required to implement marketing into so many industries. During that time, I felt a little lost on how to move forward and needed an outside perspective and ideas to help me decide what was the next step was in growing my business. Dr. David Vequist, a professor from my undergraduate years, who has always supported my entrepreneurial journey, encouraged me to utilize one of his capstone classes."
As a Marketing major at UIW during her undergraduate career, Beechner completed the undergraduate Capstone course and knew how helpful the process could be for a young company. The group of students assigned to study Embark Marketing analyzed the company, examined the market and prepared a business plan for the firm.
The recommendation was something that Beechner had not yet considered: narrowing her niche. She had years of experience in the food and service industry, and the Capstone group suggested she focus on that area to grow the company.
"They helped me to see that my personal experience and vast knowledge in the food and beverage industry could provide me with a unique angle for the business," said Beechner. "Upon implementing this business plan, I was able to identify myself as an expert in the industry and leverage existing relationships that I already had. Implementing this approach resulted in an immediate increase in growth for the company and provided me even more happiness in what I was doing. I am forever grateful for that experience."
Embark Marketing has come a long way since then, but Beechner knows it is not done growing.
"When I first opened Embark Marketing in 2010, I never imagined that we'd experience as much growth as we have," said Beechner. "While the journey has been exciting, I know we still have a long way to go. I am looking forward to the next 10+ years and seeing how much more our team can achieve."