UIW Presents at World's Religions Conference
October 21, 2021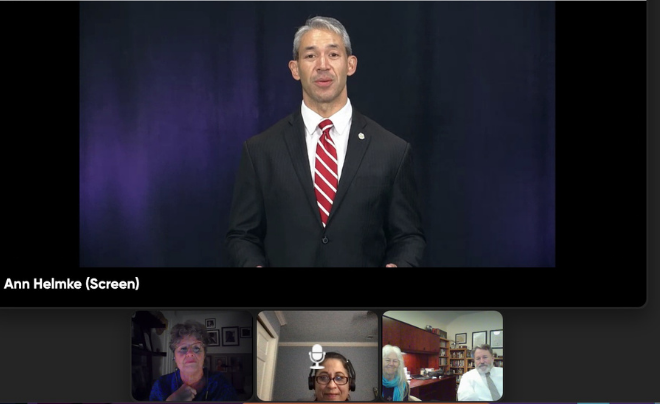 Sandra Guzman-Foster, PhD, associate professor of Education, and Sr. Martha Ann Kirk, ThD, professor emeritus of Religious Studies, co-presented "What Makes for a Compassionate City" at the 8th Parliament of the World's Religions Conference with Mayor Ron Nirenberg, Rev. Ann Helmke of the City Faith-Based Office, and Andrew Hill, JD, associate professor of Philosophy at St. Philip's College. This year's theme was "Opening our Hearts to the World: Compassion in Action."
"What I hope our audience members took away was the intent and purpose behind this grassroots movement here in San Antonio," said Guzman-Foster. "For a city as large as ours, the fact that our city leaders, especially Mayor Nirenberg, support this movement to help make San Antonio a compassionate city, speaks volumes of how important it is to him that members of our community who work in all fields and disciplines learn compassion integrity training skills and practice these skills with each other, within ourselves and within our workplaces. The hope is that we will see more compassion in our city."
The conference gathers members of the world's global interfaith movement and celebrates the enduring spirit and work of religious and spiritual communities striving toward a more just, peaceful and sustainable world. The presentation covered 12 years of San Antonio becoming a Compassionate City.
"In November of 2009, the compassion movement was initiated in San Antonio as a service-learning project at the University of the Incarnate Word in a religious studies course where Buddhists, Christians, Hindus, Jews, Muslims and Sikhs gathered to discuss compassion in their traditions and watch the historic online inauguration of the Charter for Compassion with thousands of people across the world. Others in our city, especially the peaceCENTER, furthered this idea," said Kirk.
"In 2013, the Sisters of Charity of the Incarnate Word were named the San Antonio Peace Laureates for exemplifying compassion," she explained. "In 2017, Mayor Ron Nirenberg and the City Council established the Compassionate San Antonio Resolution committing to be a city of compassion, which led to the 2020 San Antonio Compassionate Institute encouraging educators to explore and teach compassion in the community."
A case study report co-prepared by Guzman-Foster for the 2020 San Antonio Compassionate Institute showed the involvement of colleges, universities and 85% of the city's school districts. During the recent presentation, Kirk, Guzman-Foster and Nirenbirg showed participants how to create a strategic plan taking a systems approach to compassion. They also shared stories of systems being transformed as individuals deliberately practice compassion and integrity. Participants were invited to take actions in their community and to imagine the impact of a compassionate world.
To learn more, visit the Compassionate San Antonio website here.
Guzman-Foster has a PhD in Educational Leadership and Policy Studies. She teaches master's and doctoral students in the Graduate Studies Program at the Dreeben School of Education. She is a Gates Millennium Scholar and a Spencer Interdisciplinary Fellow. Her experience includes online and hybrid pedagogy, curriculum development, teacher education, program evaluation and educational research. Guzman Foster is the 2021-2022 Moody Professor. She held the Sister Theophane Power Endowed Chair in Education from 2017-2020. She has taught at the K-12, community college and university levels in Texas, Arizona and Colorado over the past 25 years.
Kirk has a ThD in Theology and the Arts. As a Sister of Charity of the Incarnate Word of San Antonio, she serves as a leader in their International Justice, Peace and Integrity of Creation Committee. She has taught religious studies to over 7,000 students, written six books and visited over 30 countries. She is interested in furthering San Antonio's flourishing as a City of Compassion within the global Charter for Compassion movement leading to respect and justice for all and for the earth itself. She has become an International Compassionate Integrity Training Facilitator and a SA2020 Ambassador encouraging progress towards a shared vision for a thriving San Antonio.