UIW Honored for Diversity and Inclusion
October 6, 2021
San Antonio Business Journal Names Inaugural Award Recipients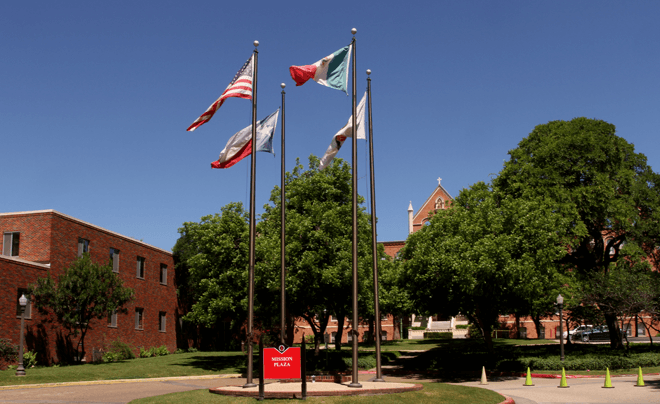 San Antonio – The San Antonio Business Journal (SABJ) has named the University of the Incarnate Word (UIW) as one of its first recipients of the publications' inaugural Diversity and Inclusion Awards. SABJ chose 10 honorees who, they say, have gone above and beyond to bolster diversity and inclusion efforts.
"We are thankful to the San Antonio Business Journal for this recognition," says Dr. Barbara Aranda-Naranjo, UIW provost. "This is really a credit to the students, faculty and staff who humbly work every day to treat each other and others with dignity and respect. Achieving diversity, equity and inclusion is a practice that we should all aspire to on a daily basis and the true accolades belong to those who quietly go about this practice to make our campus, community and the world a better place."
UIW is a diverse institution rooted in inclusion and service. UIW is a Hispanic-Serving Institution that is top-ranked nationally among faith-based institutions graduating Hispanic students with bachelor's degrees. Fifty two percent of students are Hispanic and 23 percent of students are international, representing 60 countries. In addition, the Spring 2021 graduating class completed a total of 67,917 hours of service in the community providing an economic impact totaling $1,847,342 in volunteer service hours.
Students, faculty and staff across the University work to address inequities in the community. For example, students and faculty of UIW's five health professions schools (Feik School of Pharmacy, Ila Faye Miller School of Nursing and Health Professions, School of Osteopathic Medicine, Rosenberg School of Optometry and School of Physical Therapy) regularly work to provide care and services to communities in Texas and internationally, often focusing on underserved, housing insecure and at-risk communities.
Additionally, in the past year, the student organization "As One We Will" held an inaugural Juneteenth event, commemorating the historic day. The Office of Mission & Ministry launched a new initiative called "DEI Circles" for community building in person and via zoom. The goal of "DEI Circles" is for people to support one another and learn together about the important issues that are central to the Mission at UIW, in our nation and our global community.
This work continues as members of the University community work in ways large and small to make deep and positive impacts.
"I am grateful for the recognition given to UIW by the San Antonio Business Journal for its Diversity, Equity and Inclusion (DEI) efforts," says Dr. Arturo Chávez, associate vice president of Mission & Diversity, Equity and Inclusion at UIW. "Certainly, UIW has a rich history and track record of fostering a diverse environment and it is important to celebrate our accomplishments. At the same time, it is important to remember that overcoming barriers to respectful and equitable inclusion is ongoing and it is not easy. Individuals and groups across campus have made important progress, but we are now strengthening these efforts to reach more members of our community and to make important systemic changes."
UIW works hard to provide access to students of all socioeconomic backgrounds. Thirty percent of students are first generation and ninety-eight percent of freshmen receive grant or scholarship aid. UIW has been ranked No. 27 in the nation for universities providing social mobility by U.S. News and World Report. In addition, UIW has entered into historic agreements with Hispanic Serving Institutions, Historically Black Colleges and Universities and others to provide a clear pathway for students looking for a career in the healthcare field.
According to its website, the inaugural SABJ Diversity and Inclusion awards seeks to recognize those who have gone above and beyond to bolster equality across all areas of diversity, including age, disability, gender, gender identity, sexual orientation, race, ethnicity, religion and socio-economic status.